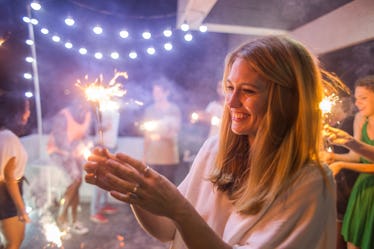 These 3 Zodiac Signs Will Have The Best July, So Don't Waste Time
Even if you set aside the summer pool parties, the afternoons sunbathing at the beach, and the explosion of fireworks radiating through the sky on the fourth of July, this month would still be nothing less than legendary. When July is jam-packed with not just one, but two eclipses, you know that something beautiful and life-changing is about to unfold. In astrology, eclipses always signify drastic revolution. They mark the ending of one chapter and the start of another. While some of these transitions may prove undeniably difficult, your destination won't reach you any faster if you're standing still. However, regardless of what happens, July 2018 will be the best month for these zodiac signs: Cancer, Leo, and Sagittarius. If you were born with your sun or rising sign in any of these signs, prepare to be transformed by positivity.
As Cancer season continues through the month of July, the world is saturated by heavy emotion, sensitivity, and intuitive understanding. If you're feeling overwhelmed, it's OK. You're receiving loads of spiritual information from the universe and it takes time to digest. Take comfort in the love you feel for others, and when the sun enters Leo on July 22, prepare for self-respect to become the most important thing of all. Dazzle yourself with flare, make your needs known, and bow to no one.
Cancer: You Wear That Crown So Nicely
It's your season, moon child. Time to wear a crown that suits the magical being that you are. With the sun in your first house of the self, you're absorbing love and light that you will transform into the highest strength. During your solar return, you're ruminating on the past year of your life, remembering the highs and lows, and taking stock of all that you've learned. Now, it's time to let all of that go and put your best foot forward, trusting that the next year will bring you even closer to your ultimate destination.
When a solar eclipse also dawns in your first house, you can bet that this birthday of yours will be monumental to the entirety of your life, a moment of change that you'll never forget. It's time to forge a new identity, spread your wings, and fly.
Leo: You're Rejuvenating From Deep Within Your Psyche
With the Cancerian sun in your 12th house of spirituality, you're receiving important messages from your subconscious. Through dreams, visions, artistic work, and introspection, you're delving deep into your inner world and loving every minute of it. This is a period of deep rejuvenation, a rekindling of the love that you have for your purest self. During this time, a passing thought can snowball into a concrete idea, and when the sun enters your first house of the self by the end of the month, you'll be fully motivated to manifest that idea into reality.
The change that starts from within will be unmistakably profound as a solar eclipse glimmers in your 12th house as well. Make sure you write down your dreams, record your insights, and participate in spiritually aligning activities. Listen to your soul.
Sagittarius: You're Metamorphosing Into Something Magical
As the sun in Cancer washes over your eighth house of reincarnation, you're undergoing transformation of the most magical kind. There's nothing funny about the eighth house. There's nothing dull about it either. Intertwined with sex, mysticism, and the inevitable rebirth that follows death, you can bet that this month will have a fire swallowing your heart with passion. As a solar eclipse also takes place in your eighth house, you can bet that something groundbreaking is happening, something that will force you to shed your old skin and break free from past confinement.
When your ruling planet, Jupiter, finally exits its retrograde and begins moving direct on July 10, you'll relish a renewed sense of comfort in your world. You've spent many months discovering yourself. Now, it's time to commit to your findings.