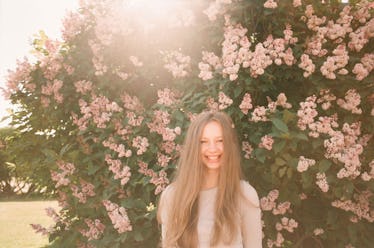 June Will Be The Best Month For These 3 Zodiac Signs & The Sunshine Helps
With so much beauty coming your way, there's a reason June has traditionally been the most popular month to host a wedding. It begins with the refreshing and revitalizing vibes of spring, ending with us knee deep in the heat of summer. Sunshine is feeding our world, wildflowers are gracing it with color, and the whispering call to adventure is growing louder by the moment. It's no surprise that June 2018 will be the best month for these zodiac signs: Gemini, Cancer, and Libra. If you happen to be born under any of these signs, there's no way you won't feel incredibly alive.
The sun spends the majority of June in Gemini, then it slides affectionately into Cancer on June 21. You can expect to feel inspired to exchange ideas and express yourself throughout the beginning of the month, as Gemini season motivates you to learn, expand, and explore the different sides of yourself. By the time Cancer season begins, your focus will shift toward intimate matters at home and in the heart. With the sun capturing energy from such enchanting sources, the month of June will have you laughing as often as you are crying. If you happen to be a Gemini, Cancer, or Libra, the effects may as well be made of pure magic.
Gemini: The World Is Yours For The Taking
With the sun and Mercury in your first house of the self, you're in a period of immense power and limitless energy. You can truly do anything you set your mind to this month and it wouldn't be bad idea to focus deeply on your career and inner-most desires. With Venus in your second house of finances while Neptune is in your 10th house of career, you're inviting money and opportunity like a magnet. There is a certain ease that surrounds your productivity and you will find that by soothing your aura and surrounding yourself with good vibes, you will no doubt prosper.
Take care around the full moon on June 26, as it occurs in conjunction with Saturn retrograde in your eighth house of death and rebirth. You could experience a frustrating desire for revenge, but what you need to do instead is let go.
Cancer: Your Vibes Are Pure And Meaningful
With Venus raging through your sign during the first half of June, you're radiating beautiful energy and attracting people like bees to an exquisite flower. You will have many people wanting to immerse themselves in your presence and glean something from your influence. With the sun also lighting up your 12th house of spirituality, you're deeply in-tune with your empathy and intuition, leading you to be an extremely powerful healer at this time. Take care not to let people who don't deserve your energy steal it from you. Open yourself up only to people you trust.
When the sun slides into your sign on June 21 and launches Cancer season, you'll enter a period of peak power. Keep this in mind and allow it to wash over you little by little rather than watch it hit you all at once.
Libra: You're Having Fun & Working Hard
The last few months have been extremely difficult for you for your career and your financial state. However, the month of June will definitely be the uplifting turn-around you've been craving. With Mars in your fifth house of pleasure and fun, your creativity is endless, infusing your day-to-day life with playfulness and sparkle. Your energy will surge towards optimism and positivity, lending itself to your career and personal life. With Venus in your 10th house of social status while Neptune is in your sixth house of work and health, you're detoxifying your life and removing unnecessary clutter. Believe me, the world will notice.
However, as the full moon on June 26 descends in conjunction with Saturn retrograde in your fourth house of the home, conflicts and dramas with your family may force their way into your world. Do not trust your initial instincts and attempt to think things through before taking action. Not everything is what they immediately seem.