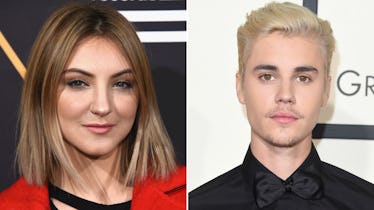 Julia Michaels' Secret To Writing Breakup Songs For Celebs Like Justin Bieber Is So Genius
Jamie McCarthy/Jason Merritt/GGetty Images Entertainment/Getty Images
When you're listening to some of the most popular breakup songs being played on the radio, you might not realize that the lyrics you're belting out are not actually written by the artist who is singing it (at least not entirely). In fact, there's a chance that those words actually came from 24-year-old singer and songwriter Julia Michaels, who seems more like a therapist than a collaborator to the pop artists she partners with. While it's obvious that she has a knack for singing herself, Julia Michaels' technique for writing breakup songs is simply unmatched, proving that she delivers a double dose of talent to the entertainment industry. "I think the way I connect with people is just through being honest and being open," she tells me.
Michaels' process has led her to create some of the biggest musical hits as of late, working alongside Justin Bieber to write "Sorry," penning Selena Gomez's "Sober," and working with Shawn Mendes to create "Like To Be You," to name a few. But to create songs that relate to the stars who sing them on such a personal level, Michaels has to somehow get inside their heads to fully understand what they're going through and flesh out their emotions in musical form.
Can you imagine trying to get Justin Bieber to open up and dish about relationship issues with you, or to chat with Selena Gomez about a difficult breakup? If you think Michaels' job sounds incredibly personal, that's because it is — but her technique for getting artists to open up is actually surprisingly simple.
"I just go in and we just talk," Michaels says of her process working with artists to create authentic, meaningful music. "Sometimes people are more open than others and sometimes they aren't, and we have to pull it out of them. But a lot of it is just conversation and just talking to people and getting it out like that."
Just like that?
Apparently, yes, just like that.
To start creating a song, Michaels sits down in the studio with the artist she's making music for and delves into some intimate and personal topics, all for the sake of a finished product that won't feel disingenuous.
I think that's the biggest way I connect with people — just by being myself.
Surely, it must be tough *not* to get emotionally invested in the artist in question's relationship while writing about it, right?
"No, I don't think so," Michael responds. "When I write with other people, I tend to put a little bit of myself in it, so it's just sort of like a blending of perspectives."
Michaels also tries to relate to people — whether it's with an artist she's working with or just an average individual — by simply being herself, which helps create a mutual understanding of respect. "I find that the more authentic you are, the more people sort of understand you and you understand them. I think that's the biggest way I connect with people — just by being myself."
Considering how much of herself Michaels puts into each song she writes, it should come as no surprise that there have been songs she's written in the past that were intended for another artist that she ultimately wound up keeping for herself, chalking it up to the idea that certain songs are fated to be kept for her own personal music. "I think everything happens for a reason," she says, "and I think songs are meant to be where they're meant to be."
When asked the opposite — whether there have been any songs that she gave away that she wished she kept for herself — she pauses, but reveals that yes, there have been, but laughs and tells me that she can't name any specifics.
Who would have thought that songwriting could be so very mysterious?
But top secret information aside, it's clear that Julia Michaels is a force to be reckoned with. As a Grammy-nominated singer who has co-written hits for some of the biggest pop stars out there, it seems that she's only going upward from here. And, while her job requires an absurd amount of planning and coordination, Michaels is fortunately in a spot in her career where she's allowed to be open and impulsive — not just in her music, but in her personal life as well.
Recently, Michaels partnered with M&M's for the M&M's Spotlight concert in Dallas this past July, which was focused on bringing spontaneous moments of fun into an event.
While her partnership with M&M's was no spontaneous decision, Michaels does share with me one of the most spontaneous things she's ever done in her life. "I once time climbed a bridge in Sydney and sang 'Wannabe' by Spice Girls," she says with a laugh.
Somewhere, I hope Baby, Sporty, Posh, Scary, and Ginger Spice are feeling very flattered.
If you're hoping to hear more of Julia Michaels' own music, you're in luck. She's currently working on a new album, but says she never wants her music to feel forced or unnatural. "I'm sort of in this phase where I just want to release all of the music," she says. "Maybe not different albums, just sort of releasing them as I feel it."
I have a pretty good feeling that no matter how she ends up delivering her music, whatever she puts out will resonate with everyone — both fans and artists alike.