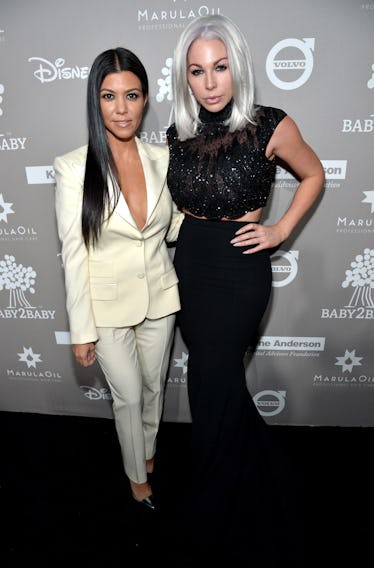 The Kardashians' Former Makeup Artist Finally Revealed If She Was Actually Fired By The Fam
Charley Gallay/Getty Images Entertainment/Getty Images
Even when they're minding their own business, it seems as though there's always some drama brewing around the Kardashian camp. Most recently, there were rumors circulating that the reality TV family let their longtime makeup artist Joyce Bonelli go. And after she posted what fans thought was a cryptic message on Instagram soon after, many assumed it was a tumultuous exit. However, Joyce's Bonelli's response to rumors she was fired actually paints a very different picture than what many have been speculating.
Chatting exclusively to People, Bonelli said that she was never actually let go. "When something personal happens, it's just a personal thing and I don't think it's anyone's business," the makeup pro shared. "But people should know, too, that I wasn't fired and I love all of them and I'm proud of them, too." However, it does seem as though some type of disagreement may have gone down, as Bonelli also said, "Who hasn't gotten in a fight with their girlfriends?"
Still, Bonelli has close ties to the Kardashians, and is still a huge fan of their work. She once even referred to them as her "sisters." And yes, she's still receiving KKW Beauty and Kylie Cosmetics products in the mail, despite the rumors, so it's safe to say there likely isn't any bad blood between them. In fact, Bonelli still has tons of wonderful things to say about Kim K's makeup.
"I love Kim's whole 'conceal, bake, brighten' saying," she said. "It's great. Not that it hasn't been done before, but that's all what us makeup artists have been working with from the beginning. Their products are great, and it's affordable, too. There's so much space in this beauty industry for everyone to do something."
These rumors of bad blood began swirling when a source who's reportedly tied to both parties claimed to People that the Kardashians distanced themselves from Bonelli because of her suspected "lies." According to the insider, the makeup artist "tried to go around them on a deal so the Kardashians wouldn't make money off of it. They caught on and Kim stopped following her."
The source added that Bonelli "would conveniently fly out of town for big Kardashian parties so people wouldn't catch on." The source also continued, "After Kim and her parted ways, she would upload pictures of Kim and call Kim her 'twin.' Joyce also claims she came up with the tagline for Kanye's hit 'that sh*t cray,' which is a lie. The Kardashians were just over her lies and the trying to cheat them out of money was the cherry on top."
In contrast, a different source claimed to Us Weekly that the split was cordial. "They just stopped working with her because they didn't see it as a right fit anymore," they said. Still, none of the Kardashians appear to be following Bonelli on social media.
Despite all the drama going on, Bonelli still managed to wish Khloe happy birthday with a sexy, glittery post on Instagram. "ma·tri·arch of lifeeee HAPPY BIRTHDAY !! @khloekardashian HOTTEST BIRTHDAY BOOTY ALIVE always got your back especially w that glitterrrr IF*CKINGLOVEYOU," she captioned the pic.
So while it's still unclear exactly what (if anything) went down with either party, let's just take Bonelli's word for it and hope for everyone's sake that things are just fine for both her and the Kardashians.