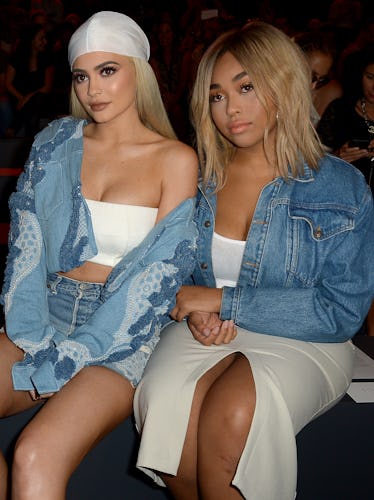 Here's How Far Jordyn Woods Will Go To Protect Kylie Jenner's Privacy Amid Baby Rumors
Gustavo Caballero/Getty Images Entertainment/Getty Images
The first week of January 2018 is now dunzo, and we're still no closer to finding out whether Kylie Jenner is actually preggers than we were before her fam started up with all the 25-day Kardashian Christmas card madness. Sigh. What a waste that was! I mean, even Kim was smart enough to delete all the evidence. But what we do know is that the lip kit mogul has a bestie that is serious #GOALS. And Jordyn Woods' Instagram proves she'll protect Kylie Jenner no matter what. Because the 20-year-old model has basically said zip about the rumors.
Remember back on Sept. 22 when news first broke that Kylie Jenner was reportedly pregnant with Travis Scott's baby? I mean, duh, who could forget? And while I'm still annoyed by the whole Kardashian crew's failure to respond to the speculation, I'm not all that surprised. If there's one thing this fam knows how to do, it's rally around each other in times of need. Still, it's seriously impressive that they've managed to keep this whole thing on the down-low, especially when you consider the fact that these guys are basically on camera 24/7.
But you know what's even more impressive? The way Kylie's BFF Jordyn has also stayed silent on social media, proving she's quite possibly the best, best friend in the world by offering zero clues to her 4.2 million followers.
For example, here's what she posted just two days after we first heard about Kylie's possible pregnancy:
"Yesterday was a dream," she captioned the image. "@kyliejenner surprised me with a sunrise hot air balloon ride... bucket list."
OK, what?! Was the balloon supposed to be some kind of code for Kylie's growing bump? Are there hieroglyphics scrawled somewhere on that sand that confirm the baby news? Help a girl out, Jordyn! I mean, we know you know. There's no way Kylie would trust her bestie enough to let her chop off her hair, but not let her in on such a major life-changing event.
I love my best friend and all, but I would way rather tell her I was expecting than ever let her go near my long locks with a pair of kitchen scissors — or with any other type of cooking utensil or hair tool, for that matter. Raise your hand if you agree.
Still, Woods' loyality is pretty impressive. She even covered for her bestie by showing up to the WWD's annual Beauty, Inc. Awards on Dec. 7 to accept the award for "Newsmaker of the Year" on her behalf.
Pretty major, considering Kylie has four sisters and a momager who loves the spotlight, and who could have easily shown up in her place to revel in all the glory. But like I said, Jordyn is the best bestie ever — the one we all wish we had, who has your back no matter what, and who will happily show up in your stead just so you can stay home n your oversized sweatshirt and kick it with a box or 10 of Krispy Kremes. Or something like that. And let's not forget that to prove her fierce devotion beyond all doubt, Jordyn joined Kylie in a commitment ceremony on the finale of Life of Kylie last fall.
"You know me and Jordyn have a special connection," Kylie told mom Kris during the episode. "Since you know, it's been a few years now, we thought we should just take this to the next level."
Totally.
"I vow to always be there for you, through thick and thin," Jordyn told Kylie while both of them held alpacas because duh of course they did.
So sweet. But wait — thick and thin.... could this at long last be a thinly-veiled reference to Kylie's pregnancy? I highly doubt it, considering Jordyn's previously demonstrated allegiance to keeping up with all of Kylie's secrets.
Bottom line, dolls?
Make 2018 the year you go out and find yourself a Jordyn.