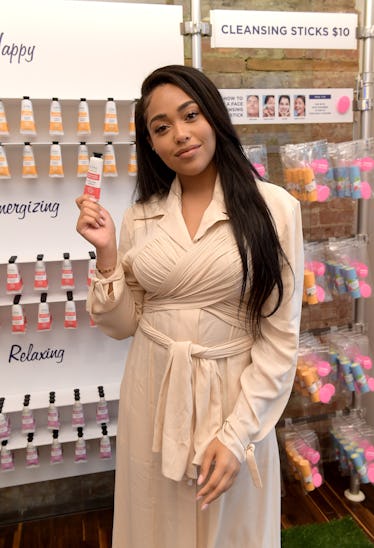 Jordyn Woods Reveals The Beauty Trends You Probably Won't See Her Trying Anytime Soon — EXCLUSIVE
Ben Gabbe/Getty Images Entertainment/Getty Images
If there's one person constantly surrounded by some of the biggest fashion and beauty inspirations in the world, it's Jordyn Woods. But that's no matter. Being around so many sartorial superstars hasn't stopped Woods from forging a distinct path of her own in the fashion and beauty sphere. Now, we laypeople have a whole new icon whose style we can lust after. And luckily for us, Jordyn Woods' beauty routine and skincare tips are pretty easy to follow. Because as much as I wish it were different, an intense, 20-step beauty routine just doesn't mesh with who I am as a person.
As I walked through the St. Ives Mixing Bar in New York City, a wonderland of the most delectable natural scents and scrubs you could ever imagine, I saw Woods from across the room and immediately, one thought kept running through my mind: HOW THE EFF DOES HER SKIN DO WHATEVER IT'S DOING? Seriously, you guys, her skin looked softer than a baby's, and she was absolutely glowing. I'm pretty sure Abba's "I Believe In Angels" was a prophecy about Jordyn Woods. But that's an investigation for another time.
Naturally, though, when I sat down with Woods, I had to know what her skincare routine involves, mostly so I can learn how to take my own radiance from "is that highlighter or just profuse sweating?" to "natural-looking glow." Generally speaking, Woods says she prioritizes two major steps in her routine.
"I am all about moisturizing. The more lotion, the better; the thicker lotion the better," she tells me. However, even though she loves making sure her skin is lotioned up and feeling smooth, Woods warns not to overdo it, as it may cause some adverse effects on your skin. "You can get acne," she says. "The thing is, you just have to find the right moisturizer."
The next major part of Woods' skincare routine? Exfoliation, which she says is "really important." "It's not good to do it too much, but just [find] a good one that works for you, [and] do it once a week or twice a week. Then, lotion, lotion, lotion!" she continues.
Given Woods' inclination toward exfoliants and moisturizers, it makes sense the budding fashion and beauty mogul teamed up with St. Ives, whose mixing bar allows you to craft your own unique face exfoliant, moisturizer, or body lotion, with tons of natural ingredients (I'm talkin' watermelon, honey, avocado, agave — you name it), completely tailored to your skin's needs and the scents you love.
While a steady skincare routine is a trend Woods has no problem getting behind, she did tell me there are a few beauty trends out there that she likely won't be adding to her repertoire anytime soon. (Obvi, no disrespect to lovers of these trends — they're just not for Woods!)
"There's been a couple. There's like this furry nail trend," she says. "I was like, 'I'll never try that.'" I have to say, I think I agree with Woods here. They're cute at first glance, but what if you have to wash your hands? What if you're just trying to slather your fries in chipotle aioli sauce, and you get it all over your mani? (No? Just me? OK.)
"There [are also] some crazy eyebrow trends I saw," Woods continues. "Just keep your brows! That's the way to do it." While everyone's free to do whatever they want to their brows, I think it's safe to say we won't see Woods rocking feather brows, halo brows, or the Nike logo brows.
Although Woods may not be trying out the aforementioned wilder beauty trends, that doesn't mean she hasn't rocked some bolder trends in the past. But let's just say, some of them, she probably won't be trying again. When asked what trends she tried when she was younger that she's a liiiiiittle embarrassed about now, Woods jokingly exclaims, "Everything!" before delving into the styles of years past that the public doesn't really know she's tried.
"I shaved half my head when I was younger, and I instantly regretted it. So that's one thing. Nobody really knows that about me," she reveals. She also recalls styles like "brows that are [too] filled in" and wearing "too much eyeliner." God, same, girl. Catch me in 2006 with under-eyeliner that basically hit my cheekbones. (I rocked it, though, just saying.)
But, like most people (and myself, thank GOD), Woods' style has drastically changed overtime. She credits this transformation to becoming more confident in who she is.
"Oh, [my style] completely changed, because I found my confidence. Before, when I was younger ... all my friends were boys ... I was a tomboy, didn't wear makeup, didn't really do my hair, I wore super baggy clothes," she tells me.
Woods continues that, before she found her confidence, size had a lot to do with her clothing choices. "I feel like, when you're growing up [and] when you're younger and you're bigger, there [weren't] many clothing options, so it was easier to gravitate towards a big t-shirt and baggy pants," she says. "It wasn't until I got older and started experimenting and trying things and finding my confidence [that] I started changing my style — and I'm still figuring it out right now. But it's all about trying and seeing what works for you."
Woods' childhood struggle with clothing is one too many of us (including me) know all too well. Especially when you're younger, you're desperate to fit in with your friends — clothing and fashion is no different. But when all your friends are into certain styles (Woods recalls those classic Abercrombie t-shirts), and the sizing isn't inclusive of larger bodies, it's easy to feel insecure in your own fashion choices.
Now that Woods has (and still is) coming into her own in terms of fashion and beauty, it's clear how much that confidence is helping her make a serious footprint in the industry. From Woods' Lip Kit collab with Kylie Cosmetics to preparing for the launch of her very own activewear line soon, the 20-year-old isn't messing around at all.
As Woods continues to make waves in both the fashion and beauty world, though, she still gleans inspo from the same places most of us do on the daily. "A lot of my friends are very stylish and very good with beauty. And I kind of learn something new from everyone — even people on Instagram or people walking down the street or people in the store," she says.
When I met Woods, I was wearing a pretty sick air cast on my leg. TBD, on if she'll cop my style, but I'm keeping my fingers crossed.
As for the person you won't find Woods taking beauty advice from? Well, this hits a little close to home. "Hmm, I would say my grandma," Woods reveals.
Sorry, grandma. Woods may love you to death, but it looks like she's got her beauty routine on lock.