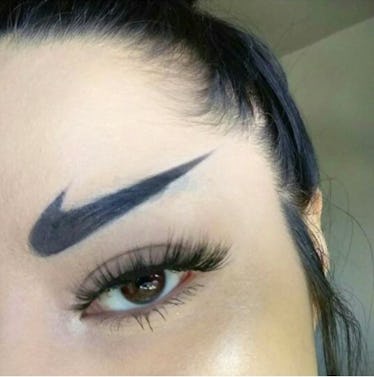 Nike Swoosh Eyebrows Are Trending On Instagram & Twitter Thinks You Should Just Do It
For better or worse, you can call 2017 the year of Instagram brows. From super high arches inspired by McDonald's to bloody Halloween squiggles, the trending looks have been high-brow, low-brow, and everything in between. Many of them have seemed so preposterous, it's almost as if they were intended as a prank from from get-go. But a sporty new Instagram brow style has emerged, and the photos of Nike swoosh eyebrows ain't playing.
Yesterday, makeup artist and beauty product extraordinaire Huda Kattan, who boasts almost 22 million Instagram followers, regrammed a shot of brows shaped in the famous shoe line's symbol from YouTube star @slayagebyjess. The exaggerated swoosh was created by a staple you may already have in your makeup kit: Maybelline Eye Studio Lasting Drama Gel Liner in Blackest Black ($10). And I'm dumbfounded because the overall effect is kind of... pretty?
Maybe it's the pairing of the unconventional brows with sultry Villain False Lashes in Medusa ($15), but IMHO, this is one of the cutest and most wearable varieties of the kitshy, drawn-on Instagram brows. On the other hand, Twitter users stand divided on whether or not Nike swoosh brows deserve a victory dance or a long, lonely bus ride home.
I mean, it's not the most offensive brow look we've seen lately, right?
Perhaps in anticipation of a following divided, Jess captioned the shot with a challenge:
"People: leave the brows alone
Me: nah ima just do it ✔
Leave a caption below ⬇
my favorite wins a shout-out."
Naturally, commenters couldn't keep their strong reactions in check. Over on Twitter, the photo went viral and elicited cries from naysayers. "Nike brows? Nose hair extensions?? What in the actual f*** ?!!?," wrote user @Nic0leDaNieLLe. In case you missed nose hair extensions, that was another unorthodox beauty trend that caused a massive stir on the interwebs earlier this week.
Many users brought up the fact that brows shaped like the Nike swoop have historically been viewed in a negative light. Most people don't want 'em, and some others even use the phrase to insult those whose brows they deem inferior.
"Some girls are out here doing braided brows and I'm here still struggling to make mine look like they haven't been sponsored by Nike," wrote @elyse_carbajal. Tweeter @BBSMoey captures the sick burn perfectly: "But why does her brows look like they were sponsored by Nike??"
However, not all commentary on Nike check brows is negative. User @50imm believes the look is such a win that she wrote, "NIKE SWOOSH BROWS FOR THE GO," in all caps. Others are celebrating the look for its inherent humor.
Remember, Nike swoosh brows didn't just appear out of nowhere. These days, Instagram is rife with artistic interpretations of eyebrows, and it has left many a casual viewer unsettled: "I honestly don't know what's going on. What are we doing?" asked @Thexzaminer.
If you too are also feeling unmoored by Instagram brows, rest assured, you are not alone in your consternation. We're in this strange, over-the-top territory together.
But if what's leaving you miffed is a crisis of footwear loyalty, I've got comforting news for you: If you prefer Stan Smiths over Air Max, there is also an Adidas brow. Composed of three parallel lines, it features only one of actual brow hair and two completely fabricated extensions.
As a fashion editor, I don't want to pick favorites myself, so I'll let these two duke it out on the court.
Since so many of our beloved brands are being translated into eyebrow art, perhaps we can start requesting specific Instagram brows looks from beauty bloggers. I can only imagine what a Christian Louboutin brow would entail.