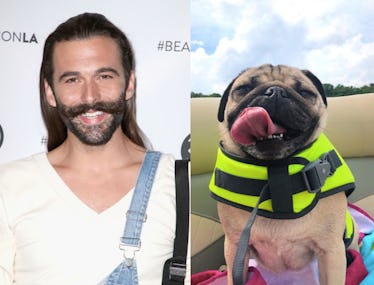 Can You Believe?! Jonathan Van Ness Is Officiating Doug The Pug's Parents' Wedding
Amazing news for anyone who is a fan of pure, unadulterated delight and joy: Jonathan van Ness is officiating Doug the Pug parents' wedding! I cannot imagine a more perfect celebrant, and am now seriously investigating how to book the Queer Eye star for my own future wedding. I mean, can you believe?!
If your "dream wedding" Pinterest board does not already contain images of squishy-faced pugs and van Ness's signature silky locks, it's time to take a long and hard look at your goals. Your priorities. What matters to you. Because, I am telling you, this matters a lot to me.
This fairytale wedding scenario started back in May, when Doug's parents/social media managers Leslie Mosier and Rob Chianelli posted a ridiculously cute photo of Doug and Van Ness in matching black shirts and flowing dark locks (the dog, of course, is wearing a wig). And honestly, if the story stopped there, it would have been enough. They say a picture is worth a thousand words, but this one's worth at least a million. Following this photo op, after van Ness's second season of Queer Eye premiered on Netflix during Pride Month and Doug executed another flawless string of Instagram glamour shots, the story took another turn.
On the morning of Monday, July 30, Mosier and Chianelli posted a photo of Doug on Instagram in which he's posing next to a speech bubble with the words, "JVN, will u officiate my parents' wedding? — DOUG"
Cute! The "O" in "officiate" is, of course, drawn as an engagement ring that matches the round-cut diamond Mosier has worn since Chianelli proposed on the beach on Oct. 20, 2017. (Naturally, Doug was present for the proposal; he donned a jaunty orange jacket for the occasion.)
Doug's facial expression seems to be his usual mix of alarmed, wrinkled, and adorable.
Van Ness quickly confirmed his involvement on Instagram Stories, captioning Doug's photo with, "I can't wait 😍😍"
So it's officially happening. This is major!
Mosier and Chianelli appear to be registered for their wedding on Zola; according to the registry site, their nuptials are scheduled for this coming Nov. 11. In 2016, the couple purchased their first house together in Nashville using earnings from their dog's viral success. Mosier told The Tennessean it's "the house that Doug built."
Just so we're all on the same page, let's review the life steps you would theoretically need to take in order to make this fantasy your reality:
Skyrocket your pet to viral fame.
Meet your favorite Queer Eye star.
Get engaged to the love of your life.
Align your wedding date with van Ness's undoubtedly hectic schedule.
Yeah, I think I'm just gonna sit over here and eat my popcorn.
Check out the entire Gen Why series and other videos on Facebook and the Bustle app across Apple TV, Roku, and Amazon Fire TV.
Check out the "Best of Elite Daily" stream in the Bustle App for more stories just like this!