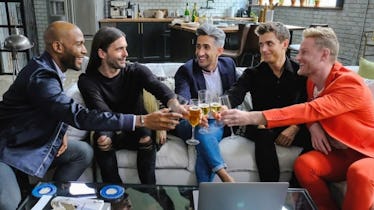 This One Detail About 'Queer Eye' Season 2 Is So Different & I'm Excited To Watch
Netflix
After the first season of Queer Eye made me fall in love with the new Fab Five and a host of heartwarming characters (Tom and Abby forever), I'm counting down to a whole weekend of ugly crying when the makeover reboot airs eight new episodes on Netflix on June 15, 2018. Like, who knew I'd be having withdrawals from Antoni's flawless guacamole skills and jawline already? Now, a new detail about Queer Eye season 2 proves that the hit show is going to be even more groundbreaking when it returns in just a few weeks, and I'm so here for it.
In an exclusive interview with Entertainment Tonight, Karamo Brown — who just got engaged to boyfriend Ian Jordan early last month — revealed that for the very first time, straight men won't be the only ones having their lives made over by him, Tan France, Bobby Berk, Jonathan Van Ness, and Antoni Porowski.
"We now have women that we are making over," he told the publication. "We are also helping people in the trans community. We're very excited about it."
Van Ness chimed in, "It just gives us a chance to go a little deeper. You got a chance to know the five of us, and the [season two] stories just get a little more into our lives as well. So we're excited to show a little more of ourselves with everyone."
One thing I loved about the first season of Queer Eye is that it's so much more than just a makeover show. Although I could quote Van Ness for days, and Bobby Berk's home redesign was totally goals, some of the most memorable moments were when the Fab Five had tough conversations about building acceptance and understanding. Although the third episode with cop Cory Waldrop started out with an intense and admittedly pretty scary moment when a policeman pulled them over, it became one of my favorites, because of the very real discussions he and Brown shared about race and police brutality.
Now, with women and members of the trans community slated to make an appearance on the series, I can only imaging the conversations about stereotypes, inclusion, and self-acceptance that they're going to have during Season 2. Even the Fab Five admitted they found that they still had a lot to learn about acceptance during the filming.
"The show has made me a lot more open and I hope that's what it's doing for everybody," Bobby told the publication. "You know, a lot of times, especially in this world right now, polar opposites, left and right, you don't really find the commonality between people. And I think that's what's changed with me. Even when somebody has different political views than I do, I've learned that when you sit down and listen, you're all still really a lot the same."
That being said, get ready for even more "snot crying" and tear-jerking moments when Queer Eye's second segment drops on Netflix.
Tan continued, "I guess we're all guilty of judging a book by its cover, but our episodes, including, most importantly, Tom Jackson. That was our first episode that we shot, it set the tone for the whole season of why I shouldn't judge a book by its cover. Who knows what we might have in common?" And when we got to know him on-screen, who could resist falling in love with Tom and his redneck margaritas?
Antoni, who's inspired his own social media following for his love of avocados and that dreamy smile, continued to play with my emotions as he added that he hopes to stay "open-minded and open-hearted." Aw.
"I'm legit getting emotional thinking about episode one," he said.
So should I just go to the store and stock up on a Costco-sized box of tissues now? Because it sounds like Season 2 of Queer Eye is going to be even more heart-warming than the first.