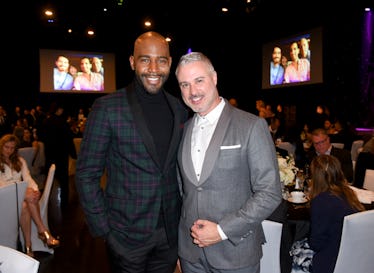 'Queer Eye's Karamo Brown Planned The Ultimate Surprise Proposal For His Boyfriend
Vivien Killilea/Getty Images Entertainment/Getty Images
As if the entirety of my favorite Netflix show wasn't enough to keep me crying for all of eternity due to the Fab Five helping various people thrive in all aspects of their lives, I am probably going to need another box of Kleenex to make it through this story about Queer Eye's Karamo Brown proposal to Ian Jordan on May 9, Jordan's birthday. Brown planned a beautiful surprise in Los Angeles at Hyde Sunset according to Entertainment Tonight, where Jordan just thought the two were going for dinner, surrounded by the pairs' loved ones. And yes, his castmates were there!
In a clip from Queer Eye star Tan France's Instagram Story, you can hear the emotional speech Brown made to Jordan, who is a director.
All these things I accomplished, only because I get home, I know that I have you. You make me feel like I can do anything, and I just want to let you know that I hope that we can conquer the world together.
The proposal can be seen, too, in Entertainment Tonight's footage at the party. In the video, you see Brown ask his then-boyfriend, "Ian Lamont Jordan, will you marry me?" The crowd at the party erupts into cheers, and Brown slips a ring on Jordan's finger.
According to Us Weekly, Brown's son made a speech after the proposal, and all of the Fab Five were in attendance at the big life event. The crowd enjoyed City Cakes cake, drinks from Freixenet and Three Olives, music from DJ Lil Buddha, and flowers from Butterfly Floral & Event Design.
Before the proposal, another Queer Eye favorite Jonathan Van Ness posted an Instagram Story with him saying, "Waiting for the big moment!" Van Ness captured the surprise as Jordan and Brown walked into the room.
Brown also made a video for Jordan that was shown on a screen, and according to Van Ness, Brown brought Jordan's family in for the birthday party. And the proposal.
Brown then posted an Instagram picture the next morning to share the jofyul news.
"Last night, in front of family & friends, I asked my best friend and the love of my life, 'Will you marry me?' He said YESSS!!!! I'm engaged! Showing off our beautiful @davidyurmanmen rings. #LoveWins @theianjordan"
On Jordan's birthday, Brown shared a beautiful posed photograph of he and Jordan.
"Happy birthday to the love of my life @theianjordan," Brown said in an Instagram caption on his partner's birthday. "I love you because of your heart, your humor but mostly because you don't mind serving #GlamourShots realness [with] me anytime I ask. I pray today and this year brings you everything your heart desires."
Swooning, swooning, swooning. I'm so here for this handsome, loving couple.
Brown has been dating his now-fiancé Jordan for almost eight years, according to a previous Instagram post from Brown.
On a photo shared on March 11, Brown discussed the comments he and Jordan receive for being in an interracial relationship. But Brown is all about positivity and combating hate with love. He said, "But ignorance will never win when love and kindness are leading the way. Wishing everyone the same happiness and joy that we have!"
Jordan has shown his support for his famous fiancé through his own social media, posting promo videos of his beau, Brown next to a poster of himself, and Brown speaking at the Human Rights Campaign, receiving the HRC Visibility Award.
The couple has traveled together, and in all truth, do rock some stellar #GlamourShots together with perfected smizes to boot. I honestly cannot wait to see the wedding these two have – it's sure to be filled with incredible people, style, and taste – and a whole bunch of love to go all around. Congrats to Brown and Jordan!