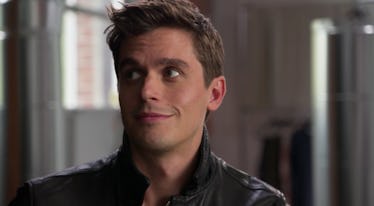 Antoni From 'Queer Eye' Has Heard Your Jokes About His Cooking & He Doesn't Care
Netflix
It has been about two months since Queer Eye first debuted on Netflix, and in that short amount of time, the rebooted lifestyle series has taken over the Internet and won over basically everyone that has watched it as fans. The funny, sweet, and surprisingly touching series has brought viewers to tears all over the world, but there is one part of the show that has been causing quite a stir online. Jokes about Antoni from Queer Eye's cooking ability have created something of a schism within the show's fandom, with a number of viewers spouting a conspiracy theory that Queer Eye's food guru can't actually cook. Well, Antoni Porowski has heard your jokes and theories, and now he is clapping back.
Antoni Porowski spoke to Refinery29 about the social media ribbing that he has been receiving over his simplistic recipes in Season 1 of Queer Eye. A number of viewers pointed out that for an expert chef, the recipes that Antoni taught the men that he was helping to make over were incredibly basic. Some of the foods that Antoni taught the show's subject to make throughout the first season included hot dogs, macaroni and cheese, and guacamole. Viewers began to poke fun at Antoni online over the simple recipes, and a joking conspiracy theory over whether Antoni could actually cook started to spread:
But as Antoni Porowski and other fans have pointed out, the real reason that his recipes on Queer Eye are so simplistic is because all of the people he is teaching don't have a background in cooking, and they need very easy, basic recipes.
Antoni also brought up the jokes about his love of avocados, which have been another focus of the social media obsession with his cooking ability. He said that although he is aware of the Internet "trolls" that make fun of him for using avocados in a lot of his Queer Eye recipes, that is not going to stop him from continuing to feature the superfood in future episodes:
If the person needs avocados, then I'm not going to deny them avocados because some troll decided I use avocados too much. If the person needs it, I'm not going to withhold that because of what outside perception of me using a certain ingredient is like.
The food guru also admitted that the "can Antoni cook" conspiracy theories were getting under his skin, and now it has reached the point where he will not read anything about him:
All of the "can he even cook" has calmed down, or maybe I'm just more ignorant because I don't read anything anymore. I used to limit my reading, but now I actually don't read anything.
Although Antoni said that the responses will not change how he acts or cooks on Queer Eye, he did admit that it might be a fun challenge to focus on one major recipe for a subject, rather than several smaller recipes, like he did in Season 1 (not all of his recipes made it to air, he points out).
But don't expect this change to come in Season 2, which Netflix recently picked up. The second season was actually filmed in tandem with Season 1, so the Fab Five had not gotten any responses to their show when they worked on the upcoming season. The good news about that is that since all of Season 2 is already totally filmed, fans can probably expect it to premiere on Netflix relatively soon — definitely before 2018 is over at the very least. Maybe just consider easing up on Antoni a bit when Season 2 drops?