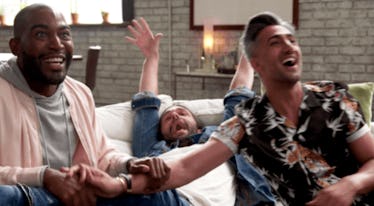 The First Details About 'Queer Eye' Season 2 Are Here & It's Coming Sooner Than You Think
Netflix
Did you all hear the good news? Queer Eye is officially coming back for a second season! Netflix's hit makeover series will have more episodes for you to binge soon enough, and now the network is spilling a bunch of crucial new details about what Season 2 has in store for fans. If the renewal news left you with questions like how many episodes are in Queer Eye Season 2, or when will the new season premiere, we finally have answers. Let's dig into all the new information about Season 2 of Queer Eye!
What Is The Season 2 Episode Count?
First, fans probably want to know just how much new Queer Eye Netflix is going to give us. I know that I was definitely disappointed when I binged my way through the first season in one weekend, hitting the end of the season after just eight episodes. Since the show has become something of a viral sensation, can fans expect an increased number of episodes in the new season?
Unfortunately, Netflix's unscripted content chief Bela Bajaria confirmed to Vulture that Season 2 will consist of eight episodes, the same amount as Season 1. Oh well, maybe Netflix will step it up with the third season.
Where Will Season 2 Take Place?
The first season of Queer Eye transported the Fab Five down south to Georgia, where they made over men from around the Atlanta area. When the Season 2 renewal was announced, it was unclear whether the show would continue to be set in Georgia or move the Fab Five to a new location, but the group's design expert Bobby Berk confirmed to Variety that Season 2 will continue to take place in Georgia. In fact, Berk also shared that the Season 2 episodes have already been filmed!
These we actually shot right at the tail of the first season, so they've already been shot and they're ready to go.
And that little revelation leads right into our next big topic...
When Will Season 2 Premiere?
Although she didn't have great news about the Queer Eye Season 2 episode count, Bela Bajaria did drop a really exciting bombshell about when the new season will premiere. The Netflix exec shared that fans can expect new Queer Eye episodes to hit the streaming service before the end of 2018. And since now we know that the new episodes are already filmed and ready to go... Queer Eye Season 2 might be coming out a lot sooner than any of us expected!
What Topics Will Season 2 Address?
While Queer Eye is a fun makeover series at its core, the first season also managed to surprise fans by including discussion of a lot of really pressing and controversial social issues, such as the Black Lives Matter movement and Donald Trump's election. Bobby Berk said that the new season will continue to delve into these topical issues, and teased that one of the episodes he is most excited about deals heavily with religion:
There is an episode that we really go in deep on religion. It's going to be one that people are going to be very excited to see ... You see the hearts of an entire religious community change.
Queer Eye touched on organized religion's historical bias against homosexuality a bit in Season 1, when the Fab Five made over the patriarch of a Christian family. In that episode, Bobby Berk shared a bit about how growing up gay within the church was a struggle, but the discussion was relegated only to one scene. The upcoming Season 2 episode definitely sounds like it will deal with religion much more heavily.
Expect Season 2 of Queer Eye to pop up on Netflix later this year.