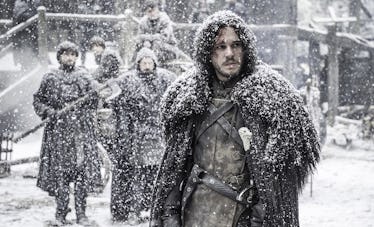 'Game Of Thrones' Season 8 Will Bring Back This Missing Character In A Major Way
HBO
In a show as expansive as Game of Thrones, it can be hard to keep up with every single character all the time. Unfortunately, in the fantasy's recent seventh season, Jon Snow's direwolf Ghost got completely lost in the mix, but the beast will not stay a ghost for much longer. We now know that Jon Snow's direwolf Ghost will be a major part of Game of Thrones Season 8, making up for his complete absence last season.
The news comes from Game of Thrones VFX supervisor Joe Bauer, who confirmed to the Huffington Post that Ghost will be back for Season 8. And not only will Ghost be back, but apparently, he will also be a pretty big part of the show's final season, as Bauer teased that the direwolf gets "a fair amount of screen time" and that he will do "some pretty cool things":
Oh, you'll see him again. He has a fair amount of screen time in Season 8. He does show up ... He's very present and does some pretty cool things in Season 8
Of course, this will come as very welcome news to all of the dog-loving Game of Thrones viewers out there. Ghost did not appear at all in Season 7 of Game of Thrones, only briefly mentioned as being left behind with Sansa at Winterfell as Jon Snow went off to meet Daenerys Targaryen. Joe Bauer did say that they shot a farewell scene in which Jon pet Ghost on the head and instructed him to watch over Sansa at Winterfell as he head off to Dragonstone, but the scene wound up being cut.
It is unclear exactly how much Ghost will play into the events of Game of Thrones Season 8, details of which are being kept under lock and key, but fans can expect Jon Snow to reunite with his canine companion pretty soon since he was heading back up north to Winterfell at the end of Season 7.
The news that Ghost will receive a fair amount of screen time is also exciting, considering that the show does not often focus on the direwolves. Although the Starks' direwolves are a pretty big part of the source book series, the TV show has been noticeably less concerned with them, killing off all but two (Ghost and Arya's recently rediscovered Nymeria). According to Joe Bauer, this is likely for logistical reasons: the show uses actual wolves to play the direwolves, and filming with live wolves can be a bit limiting if they do not cooperate. But for the final season, it sounds like the production team was ready to pull out all the stops and include Ghost as much as possible.
Of course, all of this filming and post-production is going to take a lot of time, meaning that the eighth and final season of Game of Thrones is not expected to drop until some time in the first half of 2019. Our best guess right now is that it will premiere on HBO some time in May, but nothing has been officially announced yet.