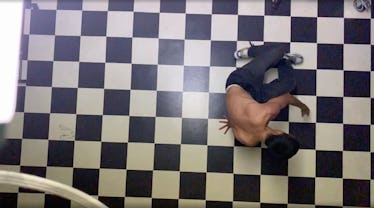 The Director Of 'Crazy Rich Asians' Shot An Awesome Mini Movie Entirely On The New iPhone
Jon M. Chu
The iPhone XS and XS Max are finally in a store near you, and news is quickly spreading about how awesome the new devices are. Among the tons of new upgrades, the new iPhones boast an updated dual-camera system, better camera sensors, 4K video, and stereo recording. With all of these features, it's only right that customers take advantage — especially someone as talented as the Crazy Rich Asians director, Jon M. Chu. Jon M. Chu's iPhone XS Max movie Somewhere will have you running to your nearest Apple store to pick up the new phone.
The short film was shared on Sept. 19 exclusively with Wired, and shows dancer Luigi Rosado using his garage practice space in Los Angeles. Rosado is a well-known B-Boy who has competed in dance professionally, and he was even featured in the Step Up movies and Disney's Lemonade Mouth. In the video, Rosado breakdances all over a tiled black and white floor, sharpening and polishing some pretty intense dancing skills. Chu told Wired,
Luigi has this garage on 3rd street. It's on a pretty busy street, but it's set back. Some of the best B-Boys in the world come there to train. He turns his little garage into a hub. Every night, that garage is open and there are dancers in there working out.
Believe it or not, the video was entirely filmed on the iPhone XS Max. Little else went into the making of it — no equipment, extra lenses, or professional lights. "I didn't have any of that," Chu said. The video is crisp, and despite the harsh floor colors and tons of movement, nothing seems to be overexposed or out-of-focus. Chu told Wired,
I'm moving around a lot, and the focus was adjusting as I was moving, but it was finding the subject really well ... There's a shot at the end where I'm rushing toward the garage—that's using the built-in stabilizers. It's pretty smooth.
The phone does have some amazing features that bring the video to the next level. One in particular is the slow-motion camera, which runs 240 frames per second. The slow-motion shot in the video that I absolutely love is the one where Chu shoots Rosado from above, and Rosado spins in a circle doing a move that I can only describe as "somehow possible but also something I could never do." Chu says he got the shot by simply resting the phone on a piece of wood hanging from the ceiling. Yup.
So, are you wondering how you can get your own iPhone to shoot your own movies with? Well, you're in luck. The iPhone XS and XS Max are in stores as of today, Sept. 21, 2018. Oh, and just so you know, both phones have the same camera system, so you're getting this next-level quality with either one.
After watching this film, I know two things for sure. 1. I'm getting the iPhone XS Max and 2. I need to learn how to breakdance as soon as possible. Luigi, can you give me some lessons?