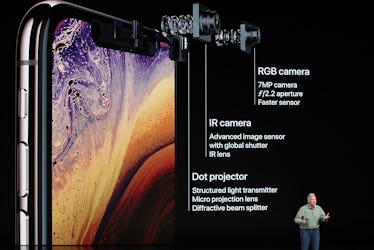 This Amazing New Photo Feature On The iPhone XS Will Take Your Selfies To The Next Level
Justin Sullivan/Getty Images News/Getty Images
I live for a good selfie. There's nothing like the joy of snapping a pic with the most perfect lighting, incredible focus, and the smoothest finish. That's why I've fallen in love with the iPhone XS "Depth" photo feature. Based on what I've seen so far, I know that picture-taking just got a heck of a lot better, and I need it in my life ASAP.
The feature was announced at an Apple event on Wednesday, Sept. 12, where the company rolled out its newest products, including several iPhones, smartwatches, and more. The stunning feature offers incredibly rich detail to photos by optimizing the focal point of the image and blurring out the background. But it allows users to do it themselves. That's right: Even if you're a stranger to photography, the "Depth" option is guaranteed to make it look otherwise.
Basically what happens is, after you take a photo, you'll simply navigate to the Photos app, hit the edit button, and from there, there will be a slider that'll allow you to adjust the depth of the photo. The background isn't blurred enough for you? Drag the slider. Want to keep the backdrop only slightly visible? Drag the slider in the other direction. Yes, Apple came to slay, folks.
The treats don't stop there. The iPhone XS also has a dual 12-megapixel camera on the back, and a 7-megapixel TrueDepth front-facing camera, which features a sensor that's "twice as fast" as previous models. If you weren't able to watch the Apple event, a representative of the company demonstrated how the features work together to create crisper, more refined images and I've gotta admit: they were absolutely flawless.
The sensor is also used for a glorious new feature called MeMoji. MeMoji is pretty similar to Animoji, which scans your facial expressions and transforms them into various animal animations. With MeMoji, however, users will be able to create their very own personalized emojis. The feature unfortunately won't be available until iOS 12 rolls out on Sept. 17, but after that, users will be able to design the MeMojis to look just like them, with options to pick their skin tone, hairstyle, eye color and more. Users can even talk through MeMojis and make funny videos to send to their friends or family members and vice versa.
I told you: Apple is killing it.
Then there's Face ID, which I've personally been waiting on for as long as I can remember. That feature allows users to unlock their phones with their faces, meaning they won't have to mess around prodding their fingers to type in the password every time a notification pops up. IDK how you feel about it, but it really doesn't get much better than that, IMO.
So, ready to start taking the most gorgeous pictures ever? The phones will be available for preorder on Friday, Sept. 14, with shipments heading out on Sept. 21. Just make sure you get online early so you don't risk them selling out or anything like that.
Now, say cheese!