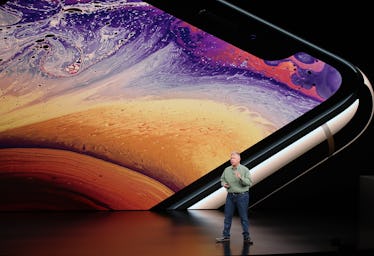 The New iPhones Will Have Memoji, So Get Ready To Upgrade ASAP
Justin Sullivan/Getty Images News/Getty Images
The newest bunch of iPhones are finally on their way. On Sept. 12, Apple announced the upcoming iPhone XS, XS Max, and XR. And, guess what? They have a ton of cool new features. For example, more phones will finally have Face ID, which allows owners like me, who will honestly ignore notifications at times for the sake of not having to fidget with my password, the option to unlock the devices by just looking at it. (!!!) These newly announced iPhones will also have longer battery life and faster chargers. In the wake of the releases, one question you probably haven't been able to shake is: will the new iPhones have Memoji? Read on to find out all you need to know about this cool AF feature.
If you somehow haven't already heard, Apple announced Memoji in June 2018, per MacRumors. The feature is strikingly similar to the iPhone X's Animoji feature, released in 2017, which scans your facial expressions and transforms them into multiple animations, including monkeys, pigs, dogs, and other animals. With Memoji, however, owners will be able to create their own personified emojis. So essentially, they're mini-emojis that reflect the appearance of the owner, which should be a lot of fun when you're flirting through texts or having a playful debate with friends and whatnot. Here's an example of what they look like:
What's even cooler is the fact that they can be totally customized to fit your appearance, whether you have freckles, wear glasses, have colored hair, and more. IDK about you, but based on how that sounds, I don't think I'll be going a day without using these things.
And, yes! Memoji will be available on the new iPhones through the iOS 12 operation system.
Aside from that, there are a few other notable features that make this release really exciting, like all the new colors the phones come in. The 5.8-inch and 6.5-inch iPhones (the iPhone XS and XS Max, respectively) come in Silver, Space Gray, and Gold, which are, of course, pretty standard to some of the previous iPhone releases. But the 6.1-inch model (the iPhone XR) is available in quite a few colors, including Black, White, Blue, Red, Yellow, and Coral. Apple is clearly stepping up its game, and I'm totally here for it.
Even if you're worried that you're gonna be spending way too much time on these gadgets, the company has a remedy for that: Screen Time. Screen Time sends daily or weekly Activity Reports which shows the total amount of time users spend in individual apps, as well as their usage across categories of apps, the number of notifications received and how often the device is picked up. Feel like you're spending too much time on your phone? You can set a limit to manage your time looking at the screen. It really doesn't get much better than that.
If you're all set to check out, the XS and XS Max phones will be available for pre-order on Sept. 14. The iPhone XS Max costs $1,099, while the iPhone XS, on the other hand, features an $999 price tag. Once you've placed your order, you'll be one step closer to rocking out with your Memojis and all the other fantastic perks.
Enjoy!