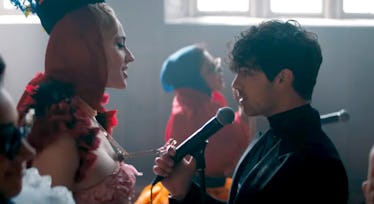 Joe Jonas & Sophie Turner's Body Language In The "Sucker" Music Video Is So Totally Hot
If you're reading this, congratulations! It means you've finally been able to break away from watching the Jonas Brothers' new video "Sucker" over and over again on repeat (I know that can't just be me) long enough to read about it. Hey, I don't blame you. That song is a bop and the costumes and setting are everything. It's practically hypnotic. Making it even more compelling is that we also get a peek at Joe Jonas and Sophie Turner's body language in the "Sucker" video, thanks to the brothers' excellent decision to include their leading ladies as, well, the leading ladies of the video.
Not only do we get some long, long, long awaited new music from the brothers, but the anticipation of their impending nuptials is at an all-time high since the couple announced that they set a date! They are due to wed this summer and I'm not ashamed to admit I'm fairly obsessed with them at the moment. So, to dig a little deeper in the meantime and see what hints we can find about this couple's dynamic, I reached out to Traci Brown, body language expert and author of Persuasion Point: Body Language and Speech for Influence, to ask what she sees between this couple in the video during the handful of moments we can watch them interacting. Here is what she had to say.