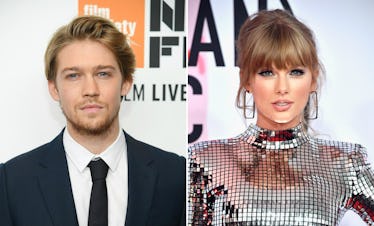 Here's How Joe Alwyn Feels About Taylor Swift Getting Political On Social Media
Dimitrios Kambouris/Frazer Harrison/Getty Images Entertainment/Getty Images
Taylor Swift and Joe Alwyn are a fiercely private couple, and I have to give them a pretty big round of applause for that. And despite the fact that he's dating one of the biggest pop stars in the world, Alwyn prefers to keep things relatively low-key when it comes to his personal life, and is quick to shut down the media if the question is surrounding his girlfriend — which I totally get. But Joe Alwyn's reaction to Taylor Swift's political posts proves that he's here to cheer her on no matter what, and is clearly beyond supportive of his lady.
In case you haven't noticed, Swift finally broke her silence on her political stance a few weeks back, urging her fans to get to the polls to vote as well as giving her endorsement to Democratic candidates Rep. Jim Cooper, who's running for re-election to the House, and Phil Bredesen, who's running in Tennessee's race for U.S. Senate.
On Sunday, Oct. 7, the singer took to Instagram to share her powerful message. She wrote in part,
I'm writing this post about the upcoming midterm elections on November 6th, in which I'll be voting in the state of Tennessee. In the past I've been reluctant to publicly voice my political opinions, but due to several events in my life and in the world in the past two years, I feel very differently about that now. I always have and always will cast my vote based on which candidate will protect and fight for the human rights I believe we all deserve in this country ... Please, please educate yourself on the candidates running in your state and vote based on who most closely represents your values. For a lot of us, we may never find a candidate or party with whom we agree 100% on every issue, but we have to vote anyway. So many intelligent, thoughtful, self-possessed people have turned 18 in the past two years and now have the right and privilege to make their vote count.
She took to Instagram yet again on Oct. 17 to encourage fans to hit the polls, and talked about what she wished she knew when she "was 18 and voting for the first time." She wrote,
Something I wish I knew about when I was 18 and voting for the first time: ✨EARLY VOTING✨. It makes it so quick and easy to go and cast your vote before November 6. Early voting starts TODAY in Tennessee and goes to Nov 1 You can check out your state's early voting dates at the link in my bio
Get your politics on, girl!
And it's because of Swift's new public political stances that her boyfriend is finally sharing a few words with the press. When asked about Swift's political posts about the upcoming midterm elections on Thursday, Oct. 18, at the UK premiere of his upcoming film, The Favourite, the 27-year-old actor said, "I think it's great. I think it's important," before walking away.
While it's not much to work with, I'm still pretty damn happy that Alwyn has finally spoken at least a few words about his main squeeze.
I'll definitely take that over his interview with British Vogue, where he basically tells everyone that he's not cool with giving away any info on his relationship with Taylor Swift:
I'm aware people want to know about that side of things. I think we have been successfully very private and that has now sunk in for people… but I really prefer to talk about work.
Eesh. Welp, that's uncomfortable.
So hey, at least now, we've heard a few words of support from Joe Alwyn, which is more than enough for me. Keep doing what you're doing, you two.