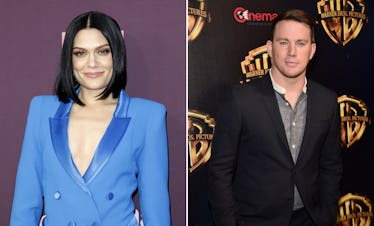 Here's Everyone Jessie J Dated Before She Reportedly Moved On To Channing Tatum
Tibrina Hobson/Alberto E. Rodriguez//Getty Images Entertainment/Getty Images
In case you didn't know, there's reportedly a new celebrity couple that's surfaced in Hollywood, and some people are still coming to terms with the budding relationship. Yep, we're talking about actor Channing Tatum and singer Jessie J. Elite Daily reached out to their teams for confirmation on their reported relationship but did not hear back by the time of publication. While we have nothing against either of them, it's still just a bit difficult for some fans of Tatum to fully get over the fact that he's no longer with his now ex-wife, Jenna Dewan. But whether we like it or not, Channing Tatum and Jessie J are reportedly dating, and we just have to accept it, OK? OK. And let's be honest: Jessie J seems cool as hell, and we should be happy for the both of them for finding someone they connect with. Looking at Jessie J's dating history, it seems like she may have a type — and it's got everything to do with talent.
Before we dive into Jessie J's previous relationships, let's just get one thing straight: Is the pairing of Jessie J and Channing Tatum super random and unexpected? Yep. But to be honest, they actually would look pretty cute together on the red carpet, if you think about it. So let's all just have an open mind as we move forward, because I'm not here for any shady boots. We're here for the facts, and the facts only, so let's begin.
Tinie Tempah: 2012
While neither Jessie J nor rapper Tinie Tempah have confirmed the reports, the two were reportedly linked back in 2012, dating on and off for just a few short months. According to The Sun, the pair first met two years prior, but it wasn't until a performance at the Royal Albert Hall for the Teenage Cancer Trust that things started to seemingly heat up.
"They had a few big nights out and realized they were attracted to each other," a source close to Jessie J told the outlet, adding, "They both like each other a lot."
Another source added that "Jessie has admitted to a few friends she has a secret boyfriend at the moment, but she has been keeping it close to her chest," and that "Tinie is playing things cool."
Of course, we don't know for *sure* if this was a real relationship or not — only Jessie and Tinie have those deets.
Luke James: 2014-2015
Speculation that Jessie J and R&B singer Luke James were dating rocked the world back in 2014, and, despite how private Jessie J can be about her love life, she made things Instagram official with James in November of the same year. Posting a photo of her and Luke on Instagram and tagging his username, Jessie captioned the picture, "My first ever official #mcm. My man. My crush. My Monday morning. So it's only right. @wolfjames":
The couple dated for about a year until they ultimately called it quits in October 2015. At the time of their split, an insider told The Sun, "Jessie fell hard for Luke, but over the summer she started having doubts."
It's a bummer, but as per The Sun, the two reportedly remained friends after they broke things off, so perhaps it was for the best.
Channing Tatum: 2018
Though Jessie J and Channing Tatum have reportedly known each other for quite some time, they've only been reportedly dating for a few months. According to Us Weekly, Tatum was reportedly seen showing some support at her Seattle concert back on Oct. 6 and her Salt Lake City concert on Oct. 8, so they must be pretty serious, right?
Elite Daily reached out to Tatum and Jessie's teams for comment on this reported relationship, but did not hear back by the time of publication.
"They've been hanging out a lot lately and he's excited about seeing her," another source told E!Online. "She's on the road, but he is very interested in getting to know her and doesn't mind tagging along."
The source also said that Tatum is "making a lot of effort and wants to spend as much time with her as he can," and that "He's having fun with it and seeing where it goes. He's known her for awhile and always thought she was very talented."
I don't know, you guys. I'm not 100 percent on board just yet with Jessie J's newest pairing, but it looks like I don't really get a say in the matter (mainly because she won't return ANY of my texts). Looks like we're just going to have to wait and see just how this one pans out.