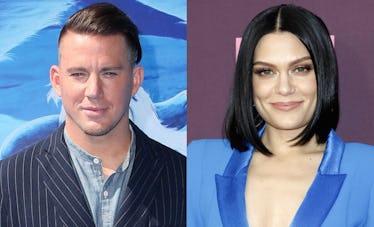 Channing Tatum & Jessie J Just Took A Major Step In Their Reported Relationship
DAVID LIVINGSTON/TIBRINA HOBSON/GETTY IMAGES
I'll admit that I'm still trying to come to terms with the totally random reported pairing that is Channing Tatum and Jessie J. They were literally the couple that no one saw coming. And, recent reports suggest that things could be getting pretty serious already because Channing Tatum brought daughter Everly to Jessie J's LA concert. TBH, I don't know how to feel about it. The internet was pretty shook when the news broke that they were reportedly an item in early October, especially considering that Jessie J looks eerily similar to Tatum's ex, Jenna Dewan, and they've previously never been seen in public together. Elite Daily reached out to Tatum and Jessie's teams for comment on this reported relationship, but did not hear back by the time of publication.
While the world may be struggling to accept that dream duo Channing Tatum and Jenna Dewan are really over, the Step Up actor seemed to confirm that he's moving on, and very quickly, on Thursday, Nov. 1 when he brought his 5-year-old daughter to the concert of his rumored flame. Elite Daily reached out to both Tatum's and Jessie J's teams for comment on the Tatum attending the concert, but did not hear back at the time of publication. Not only does this outing seem to confirm that there's definitely something romantic going on between the two, but that they may be already taking the next step in their relationship. While it's unclear whether or not the 5-year-old actually met the "Bang Bang" singer, People confirms that the actor was seen carrying the toddler into the Wiltern Theatre for the Thursday night show. I think most people would agree that meeting your S.O.'s kids for the first time is not a casual affair, so I'd hope that Tatum thought long and hard before taking this next step and exposing his daughter to his new love interest. Elite Daily reached out to Tatum's rep to inquire whether Everly actually met Jessie J, but did not hear back by the time of publication.
Whether or not the pair met, this seems to suggest that things are already getting pretty serious between the rumored couple, who first made headlines back in October. At the time, a source reportedly told People, "It's new, casual and they're having fun," informing the publication they were trying to keep things out of the spotlight. Since then, however, Tatum has definitely made a point of attending his new girlfriend's concerts, including flying to Texas to make an appearance at her Sunday, Oct. 28 show in Houston.
According to sources, "Channing is [Jessie's] biggest fan," and "he flies all over the U.S. to attend her concerts," so it may not be that surprising that he'd want to introduce his daughter to her music.
Plus, it seems like Tatum is on good terms with his estranged wife Jenna Dewan, who officially filed for divorce on Oct. 26. Dewan, who's been dating Broadway actor and singer Steve Kazee for a few months now, reportedly reunited with her ex and Everly for a totally amicable Trick-or-Treat session one night before the concert on Wednesday, Oct. 31, so it wouldn't be surprising if they'd discussed the possibility of going to the concert while hunting for candy.
I may be still grieving the fact that Tatum and Dewan have split for good, but I give them kudos for continuing to co-parent so amicably and put the focus on Everly while they're meeting new people. TBH, I think we all just want them to be happy, so maybe it's time to accept the fact that Tatum and Jessie J probably aren't going anywhere anytime soon.