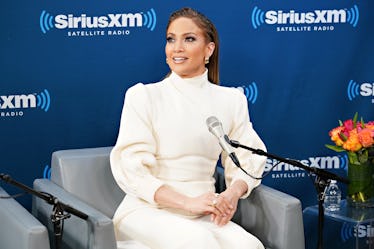 Jennifer Lopez Revealed The 4 Major Things In Her Routine That Help Her Feel Her Best
Cindy Ord/Getty Images Entertainment/Getty Images
Jennifer Lopez seems like the kind of woman who has her life pretty figured out. She knows how to maintain a demanding, yet incredibly successful career, being a mom to two adorable kids, and she still makes sure to take care of herself. Of course, J.Lo is a celebrity, so you might attribute all of this to the very likely possibility of her having a whole team of people to help steer the ship, so to speak. Even if that's true, though, the foundations of Jennifer Lopez's wellness routine are pretty accessible to anyone, celebrity or otherwise.
In a recent interview with PEOPLE, J.Lo shared some of the major ways in which she takes care of herself so she can feel her best, regardless of how hectic her schedule may get. And no, diamond facials and fancy spa trips are not included in Lopez's general wellness routine, as far as I know anyway. Rather, the singer's approach to taking care of herself is refreshingly simple and straightforward: She told PEOPLE it's all about "trying to live a healthy lifestyle." After all, she is still "Jenny from the Block," deep down.
But listen, friends: With 2019 creeping around the corner, J.Lo's tips are exactly the kind of super simple, yet extremely beneficial habits you can work into your own everyday routine without too much trouble. So, as you make your way into the new year, ask yourself: What would J.Lo do? Here are four things she'd probably suggest for your own wellness routine.