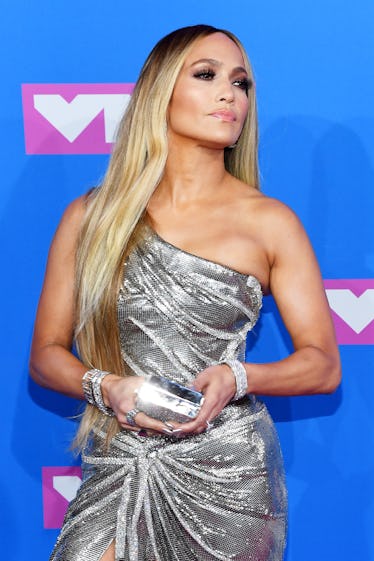 J.Lo's Look At The VMAs Basically Sparkles Brighter Than My Future Ever Will
Nicholas Hunt/Getty Images Entertainment/Getty Images
Mirror, mirror on the wall, who's the fairest of them all? The answer is Jennifer Lopez, always, and I'm 100 percent willing to fight about it — so come at me. Whenever she graces fans with her presence at a performance, event, or red carpet affair, she always stuns, thanks to her on-point style and radiant beauty looks we all know and love. With this in mind, I knew Jennifer Lopez's 2018 VMAs look would be nothing short of incredible. The goddess of glamour delivered a look that's one of her best yet, in my opinion.
In case you haven't noticed, J.Lo has been high-key killing it in 2018. She's totally living it up thanks to decades of top-selling music and new songs doing better than ever, not to mention her #goals relationship with dreamboat boyfriend, A-Rod. As a result, the universe has basically decided to make this year's VMAs an unofficial "J.Lo Appreciation Party," and it's about damn time if you ask me. Not only has her latest song, "Dinero," been nominated for both Best Collaboration and Best Latin Video, but J.Lo herself will be receiving the Michael Jackson Video Vanguard Award, previously awarded to other iconic celebs including Beyoncé, Britney Spears, and Kanye West, just to name a few. Rightfully deserved, Queen!
This is literally me, all day pre-VMAs, eagerly awaiting J.Lo's 2018 VMAs lewk:
In honor of J.Lo's big night, her red carpet look had to be nothing short of fabulous, and of course, she showed up dressed to the nines in a silvery glamazon dream Versace dress.
The overall chainmail look is stunning, but the details are what really do it for me. Please note the silver manicure, the likes of which I haven't seen since Sharpay rocked one in High School Musical. (She has silver nails throughout the whole movie, in case you never noticed).
According to a post uploaded and tagged by her manicurist, Tom Bachik, J.Lo's jewels were Tiffany and Co., her silver stilettos were in fact Jimmy Choos, and makeup artist Scott Barnes was responsible for her bronzy makeup.
J.Lo paired a glittery clutch and a few bangles with her one-shouldered gown, and kept her blonde balayage ever-so-slightly wavy.
According to the Color Wow Red Carpet Report, Global Creative Director and Celebrity Hairstylist Chris Appleton was the mastermind behind J.Lo's hair for this evening. The report notes that the style was "inspired by her iconic, sexy goddess look" in her 2009 "Waiting For Tonight" music video.
To achieve the gorgeous look, Appleton used the Color Wow Dream Coat ($28) and the Color Wow Pop & Lock Gloss Treatment ($20)
Up close, her Versace dress isn't just silver, but chainmail with accented crystals, according to Vogue.
During her major performance, J.Lo served us a few more looks out of the kindness of her heart, proving that she looks just as good in gold as she does in silver.
I love a queen who can wear anything, sing anything, and dance to anything.
Lopez rocked four looks during her set, with a glistening gold bodysuit as the base. She opened with a flowing patterned robe, then stripped down to the bodysuit alone.
Next, she looked luxe in a white fur coat, and finished the performance off by suiting up in gold harem pants, complemented by a bedazzled Yankees hat.
Just in case we couldn't see how fab the look was the first time around, J.Lo kept her bodysuit and harem pants on during her Video Vanguard Award speech.
Here's to many more years of this queen serving up music, inspiration, and most importantly ~lewks~.