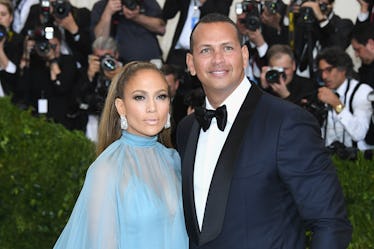 Alex Rodriguez Just Cleared Up Those Rumors That He's Engaged To Jennifer Lopez
Dia Dipasupil/Getty Images Entertainment/Getty Images
The love affair between Alex Rodriguez and Jennifer Lopez may certainly be heating up. But is it becoming more of a commitment than everyone thought? Well, that's for you to decide. Recently, Lopez was spotted wearing a sizable ring on her left hand, sparking an incredible amount of rumors about her relationship with Rodriguez. So, are Jennifer Lopez and Alex Rodriguez engaged? Like, officially? Sadly, no, according to Rodriguez.
On Wednesday, August 1, Rodriguez dispelled rumors of an engagement during an appearance on the TODAY show. During the show, TODAY hosts Hoda Kotb and Kathie Lee Gifford put Rodriguez on the spot and asked him if the ring Lopez was seen wearing in early July 2018 was actually an engagement ring.
Rodriguez's response? A pretty simple one, in fact.
"I gave her the ring maybe four or five months ago," Rodriguez said. "I got her that ring. She loved it."
Questions about the couple's engagement come just three months after Lopez released "El Anillo," a Spanish language song that basically asks where her engagement ring is. Yup, she's being that blunt about it!
When Lopez appeared on The Tonight Show back in May 2018, she said that she absolutely wasn't putting pressure on Rodriguez to put a ring on it:
No pressure! The song is definitely about that, it is, but I felt like it was kind of something that all women get to a point where they say, 'Ok, what's up?' Like, we're good, everything's great, what's going on? Am I staying or am I going?'
Obviously, Rodriguez didn't take the song all that seriously since he has yet to propose to Lopez.
Here's the ring in question, by the way:
Rodriguez and Lopez have been dating for nearly a year and a half. The couple made their official red carpet debut at the 2017 Met Gala.
In the time since then, the two stars have really come together and created a strong sense of family. They spend lots of time with their kids. Between the two of them, they have a total of four children: Lopez's 10-year-old twins, Maximilian and Emme, as well as Rodriguez's daughters, Ella, 10, and Natasha, 13.
In his interview with Kotb and Gifford, Rodriguez reflected on how perfect the timing is for his relationship with Lopez:
If this happened while we were in our 20s, it would've never happened. It was just too much craziness. I wasn't mature enough. We're both in our 40s, we're both from New York. We both come from Latino backgrounds, we both have two kids. We've both been through a lot and can really appreciate each other, both the good and the challenges.
Wow, it sounds like Lopez and Rodriguez really are kindred spirits. It's almost like they were meant to come together at this very moment in time. And you know what? It's so obvious that they share something really special.
Hopefully, their union will last far beyond the here and now and they'll make the most of it. Not to put any pressure on Rodriguez, but if you're feeling this way about Lopez, then maybe it is time to put a ring on her finger. Just saying!