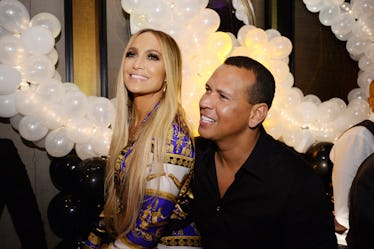 Jennifer Lopez & Alex Rodriguez's Body Language At The MTV VMAs Was So Sweet, I Can't Deal
Andrew Toth/Getty Images Entertainment/Getty Images
If there's one known fact in today's world, it's that Jennifer Lopez ages like fine wine. The 49-year-old singer has got moves, and when she attended the MTV Video Music Awards on Monday night with her boyfriend, Alex Rodriguez, she showed them off. Fans could definitely feel the love between the two, but what do experts have to say on the matter? More, what can Jennifer Lopez and Alex Rodriguez's body language at the MTV VMAs tell us about their relationship?
Well, it's actually pretty complicated. The two have been dating for over a year, as Lopez celebrated their one-year anniversary in February 2018 at a concert, introducing her song "Us," by telling the audience, "We've been together for one year today. I don't want to get all mushy or anything, but baby, this song's for you. I love you," E! News reports. But just because they've been together for a good amount of time, doesn't mean they're immune to any relationship issues. They are two humans in a relationship, after all.
Now that they've been together for a while, and because they literally embodied relationship #goals at last night's VMAs, I asked body language experts to analyze their interactions during and after the event. This is what they interpreted.
Of this first photo of the happy couple, body language expert Lisa Mitchell tells Elite Daily, "They are good balance to each other. In photos where Jennifer is extending a leg to take up more space, Alex is usually mirroring her and balancing out the space claim by also extending a leg or widening his stance."
Lopez and Rodriguez took to the red carpet before the show to serve some major looks, and while they obviously look flawless, body language expert and author of "Persuasion Point," Traci Brown, tells Elite Daily that everything is not as it seems. "These two are tight... but maybe not as tight as they could be."
Now, this doesn't mean that they aren't meant to be, but rather, that there may be more going on than what we're seeing. "He is very lit up by her," Brown continues, "and in each pic she's not smiling nearly as much, favoring the too cool for school model pouty face."
To be fair, Lopez does look fierce. Additionally, body language expert Blanca Cobb also said that the couple looks completely taken with each other. "In the photos, you get the sense that JLo and Alex are happy, they're standing close together in the posed photos," she tells Elite Daily. "Their sides are touching and bodies are angled toward each other, which is what you'd expect from a couple in love."
Of the posed red carpet photos of the couple, Brown also explains that their stance of leaning in toward each other is also very telling.
"We also see that while they are touching, they aren't standing in a very deep V shape," Brown tells Elite Daily. "The more deep the V the more focused on each other they are." So really, these two are totally into each other, and while the honeymoon phase may have passed, it's still like they just met, in a way.
Additionally, Mitchell emphasizes that Rodriguez definitely seems to be happy for his girlfriend. "He is comfortable with her being in the forefront, literally, and is always offering her a supportive arm around her back in a protective but not insecure gesture," she says. "He seems perfectly confident letting her take center stage in photo ops by her standing slightly in front of him. He angles his torso slightly toward her to show she has his full attention and that despite the cameras, he's focusing on her."
When the two changed looks, Cobb says that there is still a whole lot of love. "Even though it's a subtle angle toward each other while posing for photos, remember that where the heart leads, the body follows. You can see that Alex is feeling pretty confident with his thumb hanging out of his pants front pocket."
Now, some may wonder if there's any tension between the two since Rodriguez is now retired from playing professional baseball, and Lopez just received a huge award. But it certainly appears as if they support each other in their careers.
"Even in the last pic where they kiss, he's leaning in waaaay more," Brown says. "So will they last? As long as he's OK with her needing the spotlight and putting that first!" I mean, honestly, Lopez has been rocking the spotlight for years, now, so she's probably a pro at handling her career and her personal life.
Of their kissing photo, Cobb agrees. "Their kiss isn't as passionate as you'd expect, but it could be a bit lackluster because of paparazzi around them," she explains. "You'd expect their bodies to be closer together with his hands on her. JLo is reaching out for him, but doesn't seem to have made contact." Perhaps they were just sharing a smooch for the cameras, and they weren't completely relaxed. At the end of the day (or, in this case, awards show) Lopez and Rodriguez are there for each other.
Monday night was pretty big for Lopez, and based on her body language with her boo, it's obvious that they're in love, and working it together. According to Mitchell, "There is congruency in their words and their non verbal communication which makes it easier to trust the true emotion between them as positive and loving." Basically, they're perfectly happy, thanks for asking.