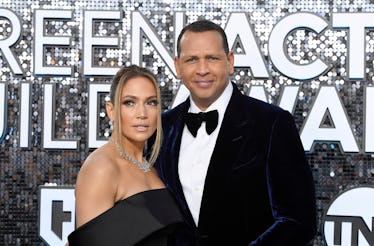 J. Lo & A-Rod Are Reportedly Over, So BRB Crying
Frazer Harrison/Getty Images Entertainment/Getty Images
Editor's Note: Jennifer Lopez and Alex Rodriguez released a statement to CNN, TMZ, and People on Saturday, March 13, clarifying that they are "working through some things" but are actually still together.
Fans who were hoping for a J. Lo and A-Rod wedding in 2021, I am sorry to ruin your Friday. Jennifer Lopez and Alex Rodriguez have reportedly broken up, according to a report published by Page Six on March 12. A reported source "familiar" with A-Rod told the publication, "He's now in Miami getting ready for baseball season, and she's filming her movie in the Dominican Republic." Sources close to the couple also reportedly confirmed the news to TMZ, but the reason for the split is still unclear. Elite Daily reached out to representatives for both Lopez and Rodriguez but did not hear back by the time of publication.
According to Page Six, the couple ended things due to Rodriguez's January scandal with Southern Charm's Madison LeCroy, saying it was "the reason they finally broke up. There were already problems, but Jennifer was really embarrassed by it."
ICYMI, LeCroy claimed she had an affair with "a very famous, married ex-MLB player" during the Southern Charm reunion special on Jan. 28. On the special, co-star Craig Conover accused LeCroy of flying to Miami to hook up with the mystery ex-MLB player, making it obvious it was Rodriguez but never naming him directly. LeCroy said, "He contacted me, and yes, we DMed, but other than that there was nothing... I've never seen him [or] touched him."
On Feb. 3, LeCroy's Southern Charm co-star Danni Baird told the Reality Life with Kate Casey podcast that the mystery man was reportedly Rodriguez. "[LeCroy] had even told me they were FaceTiming or something," Baird said. When exactly the reported affair went down is unclear, but LeCroy said it happened sometime in the three years she was dating Austen Kroll. They broke up in December 2020.
A source close to Rodriguez reportedly denied the rumors to the New York Post, saying, "He doesn't know this woman. Look, does this mean he didn't DM her and liked a photo or two? I guess not, but he doesn't know her — and he definitely didn't hook up with her."
Lopez has not acknowledged the scandal, but did appear on the March 2021 cover of Allure magazine, where she revealed that although the pandemic had caused her and Rodriguez to postpone their wedding ("We had been planning for months and months and months, and it was overseas," she said), they did get to spend time working on themselves. "We did therapy," she said. "I think it was really helpful for us in our relationship."
Lopez and Rodriguez met for the first time back in 2005 at baseball game in Shea Stadium in New York, when Rodriguez still played for the Yankees. They were both married at the time — Lopez to Marc Anthony and Rodriguez to Cynthia Scurtis — but in September 2019, Lopez told Sports Illustrated they had instant chemistry. "We shook hands and it was this weird electricity for, like, three seconds. Three to five seconds of looking at somebody right in their eyes and getting stuck."
They didn't reconnect until 2017, years after their respective divorces. Lopez told Ellen DeGeneres she and Rodriguez bumped into each other at a restaurant where they exchanged numbers, after which he asked her to dinner. They made their red carpet debut at the 2017 Met Gala in May, and the rest was history.
There was no shortage of supportive red carpets and Instagram tributes throughout their relationship. Lopez posted a sweet picture of her and Rodriguez (who she nicknamed Macho) as recently as Feb. 27 to commemorate the Dominican Republic's independence day. Rodriguez posted a similar snapshot, and three days before, on Feb. 24, a sweet selfie of the two with the caption, "Missing this girl 💚."
Neither Rodriguez nor Lopez have made statements addressing the reported split.
This article was originally published on