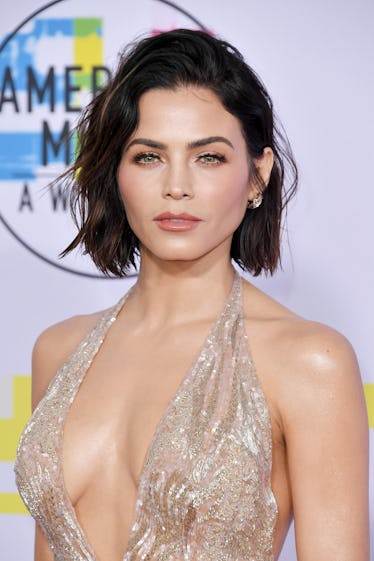 Jenna Dewan Wants One Simple Thing For Mother's Day After Her Split From Channing Tatum
Neilson Barnard/Getty Images Entertainment/Getty Images
It's only been a month since fans found out Channing Tatum and Jenna Dewan were calling it quits on their marriage. The two have made a concerted effort to keep it pleasant and civil while the public tries to work out what went wrong, but the truth remains its none of our business, guys. Mother's Day is coming up for Dewan, and based on a recent interview, it sounds like she is focusing on time with her daughter and looking to nurture herself. Jenna Dewan's first Mother's Day after her split from Channing Tatum is all about "balance." I'm not a mom or divorced or anything, but that sounds good even to me.
Dewan is busy promoting her show World of Dance, but it sounds like she's taking Mother's Day as an excuse to cozy up with her 4-year-old daughter, Evie, and show herself a little TLC, too. On Tuesday, May 2, she shared her holiday plans with Entertainment Tonight. She said she's looking for equal parts family time and solo time. Dewan explained,
I always want Mother's Day to be, like, family. I want to do something together, I want to be with Evie, I just have a really nice day and then the next day, I want to go to the spa... That's what I want. I want the balance. I want the mommy time and then I want the me time. So that's my plan.
She did not specify if "family" meant Tatum, too, but it would be understandable if Jenna and Evie just took the day for themselves. One thing Dewan said she does NOT want is for Evie to cook her breakfast in bed. "I mean, that would be terrifying," she said. "No one wants Evie cooking breakfast for anybody ever."
Dewan continued,
She does make me a card, and her biggest thing is Color Me Mine [a paint your own pottery place], so she'll go and make me a cup. I have, like, a million for birthdays and everything. It's, like, coffee mugs galore at my house.
Dewan's advice for mother's with toddlers is to just "play it cool" and continue to offer their kid options when they want to get something accomplished. She explained, "At this age, options are really good, not saying, 'What do you want to do?' 'You have this option or this option.' That was mind-blowing to me, how well that worked."
She added,
Also not getting too excited about something, because I'm really giddy, so I'd be like, 'Oh my god!' It ruins it every time, then they won't do it again," she added. "So it's like, 'That's cool.' Just play it cool. It's like your dating someone. 'That's cool. Nice. Good job with that.'
Despite the clear heartbreak she and Tatum must be feeling, both parents have worked together to make sure there is no negativity surrounding their split. They also put their love and focus on Evie at the front and center of their breakup announcement, writing, "Absolutely nothing has changed about how much we love one another, but love is a beautiful adventure that is taking us on different paths for now... We are still a family and will always be loving dedicated parents to Everly."
Tatum posted the full statement on his Twitter account.
Wherever this Mother's Day takes you, Jenna, I hope it's full of love, appreciation, and loads and loads of peace. (Extra kisses to Evie!)
Check out the entire Gen Why series and other videos on Facebook and the Bustle app across Apple TV, Roku, and Amazon Fire TV.