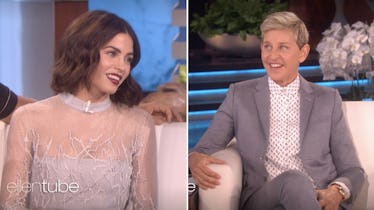 Ellen DeGeneres Accidentally Called Jenna Dewan "Tatum" & The Video Is So Awkward
Everyone has been having a hard time since Channing Tatum and Jenna Dewan ended their marriage. This includes, but is not limited to, talk show host Ellen DeGeneres. When Dewan stopped by The Ellen Show with her World of Dance co-judges, DeGeneres accidentally called her by her former married name and clearly regretted it immediately. This video of Ellen DeGeneres calling Jenna Dewan "Tatum" is truly awkward, but I'd also say both women handle it with grace and respect.
Dewan came on set to promote World of Dance, a new dance competition show scheduled to come out late May on NBC. She appeared with her co-judges Jennifer Lopez, Ne-Yo, and Derek Hough. As DeGeneres was announcing the cast, she stumbled, saying, "We're back with Jennifer Lopez and now we're going to bring out your fellow judges and hosts for your show, World Of Dance. Please welcome Jenna Dewan Tatum, uh, Jenna Dewan. Sorry. Derek Hough, and Ne-Yo."
As the rest of the gang came out, it looked as though everyone agreed to just keep it moving and continue on with the show. DeGeneres asked some light-hearted questions about the cast hanging out together and Dewan bringing her daughter to set. However, before they cut to commercial, she had to clear the air.
DeGeneres said,
I have to say, before we go to break, I'm so sorry. I introduced you and it was just such a habit, and I have to say the way that you and Channing are handling everything is beautiful for your daughter and the statements have been great. And I apologize. I just have known both of you for so long, and I'm so used to saying…
Catch the moment in the video below right around the 1:20 mark.
Like a true professional, Dewan took it in stride. While Jennifer Lopez did clearly reach out to hold her friend's hand, Dewan totally let DeGeneres off the hook and smiled her way through her response. Dewan responded, "I know, I know. Thank you. Honestly, thank you and everybody for all the love and support. It's truly, so moving. It's all love!"
Whew! Round of applause, everyone!
Of course, the statement DeGeneres is referring to is Dewan and Tatum's initial announcement explaining they made the decision to end their marriage. Exactly one month ago on April 2, Channing and Jenna posted the following message on Twitter:
We have lovingly chosen to separate as a couple. We fell deeply in love so many years ago and have had a magical journey together. Absolutely nothing has changed about how much we love one another, but love is a beautiful adventure that is taking us on different paths for now. There are no secrets nor salacious events at the root of our decision — just two best-friends realizing it's time to take some space and help each other live the most joyous, fulfilled lives as possible. We are still a family and will always be loving dedicated parents to Everly. We won't be commenting beyond this, and we thank you all in advance for respecting our family's privacy.
Of course, fans were devastated and nasty rumors began circulating about what could be the true cause of their breakup. One falsity started making the rounds claiming Tatum had a drinking problem, but Dewan's rep cleared that up right away. They told The Daily Mail, "Happy to clarify that absolutely none of these rumors are true. The reason our statement was so positive [was] because that's the reality of the situation."
Ugh, why do celebrity breakups feel so personal???
Proud to adore ya, Jenna.
Check out the entire Gen Why series and other videos on Facebook and the Bustle app across Apple TV, Roku, and Amazon Fire TV.