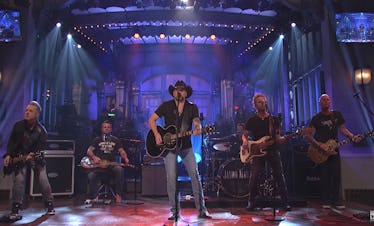 Jason Aldean's Emotional Tom Petty Cover On 'SNL' Honored Las Vegas Victims
SNL took a break from its typical jokes during Oct. 7's cold open. Instead, the show honored the victims of the Las Vegas shooting on Oct. 1 with a performance from the country singer who witnessed the tragedy firsthand. Jason Aldean's SNL Tom Petty cover made everyone emotional while recounting the extraordinarily difficult week.
Dressed in black with his band behind him, Aldean gave a moving speech. "Like everyone, I'm struggling to understand that night and how to pick up the pieces and start to heal," he said. Though the violence that unfolded during the Route 91 Harvest Festival has since caused our country to take sides regarding the issue of gun control, the singer chose to use this platform to unite Americans. "So many people are hurting. There are children, parents, brothers, sisters, friends — they're all part of our family. So I want to say to them, we hurt for you and we hurt with you. You can be sure we're going to walk through these tough times together, every step of the way."
Also paying tribute to Tom Petty, who died from cardiac arrest a day after the Las Vegas shooting, Aldean performed a cover of one of the late singer's famous tracks.
Take a look at Jason Aldean's rendition of "I Won't Back Down" on SNL.
Responses to the touching tribute began to surface on Twitter, and people definitely had strong reactions to the cold open.
Aldean's time on stage during the Route 91 Harvest Festival was cut short when gunfire erupted from the 32nd floor of Mandalay Bay, ultimately killing over 50 people and injuring at least 500 more. Though the shooting was brief, and only conducted by one person (who has since died), the aftermath was horrific. The singer ran off stage when the shooting began.
Though the evening began on a difficult note, things picked up thanks to host Gal Gadot, aka Wonder Woman. The actress was joined on stage by another Wonder Woman... one who takes her powers to the street of New York City. It was double the fierceness for sure.
To mark the occasion, SNL aired live in Israel for the first time during Gadot's big appearance, and the actress had a message (in Hebrew) for those who were tuning in for the big event. "I just wanted to let you know this might be a big mistake: The writers here clearly know nothing about Israel," she said. Her words were accompanied by subtitles. "In every sketch they have me eating hummus. I mean, I like hummus, but come on."
Things took a funny turn when Gadot got a chance to play Kendall Jenner in a skit about E! and its fall lineup that allows you to "turn your brain off." Gadot is pictured with Kendall's bestie Bella Hadid (Kate McKinnon) and a sleek kitchen with a bowl of fruit as they contemplate who is the prettier model. It's definitely a funny jab at the reality TV we're all accustomed to binging on E!
Here's Gal Gadot channeling her inner Kendall Jenner.
Though viewers were eventually treated to some fun and hilarious skits, no one will forget the powerful opener. If you're looking to make a difference and help those who have been affected by the tragedy in Las Vegas, there are plenty of ways to help. Donations to the Red Cross is one way to show your support, as the organization has been on the ground with victims since the shooting happened. Take a look at crowdsourcing pages like GoFundMe to find ways to support the communities and families affected by the tragedy. As Aldean said during the opener, "You can be sure we're going to walk through these tough times together, every step of the way."