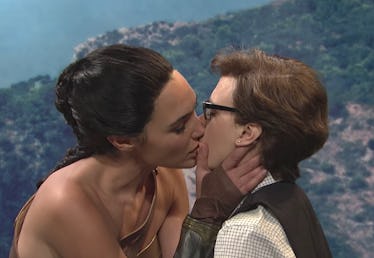 Everyone's Losing Their Minds Over Gal Gadot Kissing Kate McKinnon On 'SNL'
Wonder Woman made quite the splash during her first appearance on SNL, and people cannot stop talking about a certain skit. After two women stumbled upon the island of Themyscira, things got steamy... for some. Gal Gadot kissed Kate McKinnon on SNL, so naturally, the internet practically imploded.
Gadot couldn't possibly host the late-night show without some sort of reference to her superhero alter-ego, so it was only fitting that Themyscira made an appearance. Two ladies lost at sea, Aidy Bryant and Kate McKinnon, kickstarted the WW parody on an important journey. After docking their boat on the island, they decided they wouldn't make it home, so Themyscira was their next best option (or perhaps the better option).
Of course, there was a reason they gave themselves "permission to dock." "I guess we'll cut to the chase. Show of hands, who here's a les?" McKinnon asked. After playful and humorous lines, the ~drama~ unfolded. Diana, who only saw the women on the island as strong and powerful, decided to put her feelings to the test, and a "reluctant" McKinnon agreed to be her guinea pig.
Then, Gal Gadot and Kate McKinnon locked lips (in a rather lengthy smooch) and SNL fans went wild.
So Diana, what exactly are you feeling now?
Forget Diana: What were your thoughts on the steamy scene — and its outcome? Were you cracking up? Were you jelly of McKinnon?
People took to Twitter to unload all of their feelings about SNL's Wonder Woman smooch.
The internet knew it was only a matter of time before this scene became a gif.
Let's be honest with ourselves: This is the internet, and it works fast.
In the eyes of many, Gal Gadot is a hero.
It's safe to say McKinnon has had a productive few weeks.
In between lip locks, Gadot also got to star in everyone's favorite reality show: Keeping Up With The Kardashians... or should I say, Kendall's Model House? Gadot played Kendall Jenner and Gigi Hadid (while McKinnon played Bella Hadid) in the fictional E! series that allows you to "turn your brain off." The models questioned in their super-sleek kitchen who in fact was the prettier model.
Have a look at Gadot channeling everyone's favorite reality TV family.
The laughs didn't stop there. Gadot also got to go on a blind date with O.J. Simpson (Kenan Thompson). Throughout the skit, Amelia (Gadot) slowly starts to piece together who her date actually is.
Take a look at O.J. and Amelia's dinner for two.
Gadot's big night on television caused quite a reaction. SNL aired live in Israel for the first time during her appearance, and the actress had a message (in Hebrew) for those who were tuning in for the big event. "I just wanted to let you know this might be a big mistake: The writers here clearly know nothing about Israel," she said. Her words were accompanied by subtitles. "In every sketch they have me eating hummus. I mean, I like hummus, but come on."
Before the laughs, the smooch, and everything in between, the show kickstarted the second episode of season 43 on an emotional note — by paying tribute to the Las Vegas victims and the late Tom Petty. Jason Aldean — the country singer who ran off the stage during the Route 91 Harvest Festival when a shooter began firing at concertgoers from the 32nd floor of Mandalay Bay — opened the show. He said,
Like everyone, I'm struggling to understand that night and how to pick up the pieces and start to heal. So many people are hurting. There are children, parents, brothers, sisters, friends — they're all part of our family. So I want to say to them, we hurt for you and we hurt with you. You can be sure we're going to walk through these tough times together, every step of the way.
Though it was a difficult and emotional start to the second episode, Gadot and the other actors helped put a humorous spin on things, despite the horrific week the country had endured.