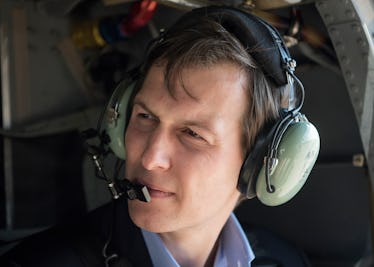 Combat Zone Jared Kushner Is The Halloween Costume Too Easy To Not Try
DOD/Getty Images News/Getty Images
If you're still without any idea for a costume this Halloween and you're panicking over the prospect of being the lame one at a party, rest easy. All is not lost yet, thanks to Jared Kushner and one hilarious visit overseas months ago. To put it simply, if you can find a way to dress the way President Donald Trump's millionaire son-in-law did during his trip in Iraq, then you can put together a Jared Kushner flak jacket Halloween costume.
If you're not familiar with what that, perhaps a bit of a backstory is in order.
Back in April, Kushner — a White House senior advisor and the husband of first daughter Ivanka Trump — traveled to Iraq with Joint Chief of Staff chairman Joseph Dunford, the nation's highest ranking military officer.
A spokesman for Dunford said at the time,
As well as receiving briefings and updates, Mr. Kushner is traveling on behalf of the President to express the President's support and commitment to the Government of Iraq and U.S. personnel currently engaged in the campaign.
As you can see from the spokesman's description, the purpose of the trip was totally serious. In turn, it produced a seriously funny result, specifically this glorious photo of what we can only describe as Jared Kushner's combat zone look:
Once that photo of Kushner looking like he's headed to dinner on a spring day in Tribeca, but for his flak jacket, hit the internet, you know what happened.
The jokes flowed (and they're still funny).
Now you can turn that joke into your saving grace, and do so easily.
Step 1: Slacks
Simple enough, right? The first thing you have to do is find a good pair of khakis, but don't cheat yourself and get some pants from, like, Kohl's or something. This is Jared Kushner we're talking about. Do you know how much he's worth? Keep it classy and get something from Brooks Brothers or any similar store.
Step 2: Flak Jacket
Now this one is bit trickier.
You're going to need a military-esque flak jacket, but it's probably a little bit too late in the game for you to order those that most resemble the authentic type whatever heaven sent angel graced upon Kushner in Iraq.
So, your best bet is to head to Walmart and fine one that's designed for kids to play with. The average person won't tell the difference anyway, and you can definitely get away with a model like this.
As you can see, though, we can't promise you it's going to be cheap. Speaking of things that aren't cheap...
Step 3: Ray-Bans
It'd be best if you already had one of these bad boys on hand. Again, if you really want to take Halloween seriously — despite your resorting to last-minute options suggesting otherwise — you'll want to pull this costume off as authentically as possible, especially when the items necessary to do so are so common.
But, I suppose if you don't own a pair of Ray-Bans, and aren't willing to shell out upwards of $100 just to impress people for a couple of hours, you could literally take your pick of any type of shades, even if they below to your kid cousin.
People will get the message, as long as you do this one thing.
Step 4: Shirt And Blazer
Assuming you're either a guy, or have guy friends, finding a closet with a shirt and blazer should be no problem at all.
It's what you put over the blazer that's most important. DO NOT forget this last part: putting a name tag on the flak jacket, which low-key might be the funniest detail of the Jared Kushner combat zone look. Just grab some tape and a marker and scrawl that name on.
Put this all together and you'll go from having no costume no competition at your Halloween Party (no, but seriously).