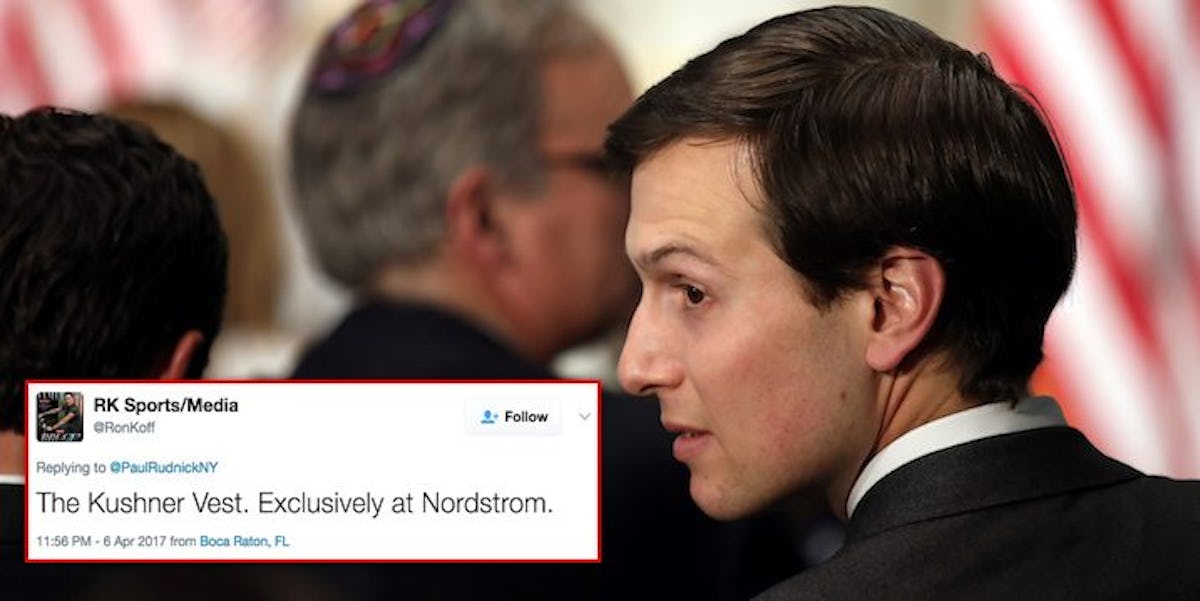 People Can't Stop Making Fun Of Jared Kushner's Outfit In Pic From Iraq Trip
Reuters
As you already know, Jared Kushner, son-in-law of President Donald Trump and senior adviser to the White House, visited Iraq earlier this week after receiving an invitation from Gen. Joseph F. Dunford Jr., the chairman of the Joint Chiefs of Staff.
He was reportedly there to "receive an update" on the current status of the counter-ISIS campaign in Iraq and Syria.
Because he's definitely qualified to do that, right?
Mhm, sure, uh-huh.
As if it's not problematic enough that Kushner visited Iraq before our own Secretary of State Rex Tillerson, the 36-year-old senior adviser was also spotted in this little number during his visit.
To say he looked out of place is probably the understatement of the year.
No one is holding back from roasting the absolute crap out of him.
Aww, Kushner's mommy must have known her wittle boy would feel a-scared!
Sickest pro pic ever, bro.
Honestly, even Pee Wee Herman would probably be a more likable person in this context.
Literally everything about our current administration is like something out of a terrible spy thriller movie.
Pretty soon, you'll be seeing Kushner's look on all the major runways.
Oh, my bad. It's definitely only available at Nordstrom's.
But, for real, what are the chances he's holding a Pepsi in the hand that's out of the frame?
At the end of the day, though, this is the important thing to remember:
It's not just Kushner's silly-looking "war" outfit that has everyone so outraged.
It's the fact that anyone thought it was a good idea for him to even go to Iraq at all.
Generally speaking, his role in the White House still isn't really clear to any of us, and there's no way he deserves a senior adviser position in the administration.
And he's especially unqualified to handle any kind of global affairs, especially given the current state of our relationship with the Middle East.
What's next? Are we going to send Kushner to Syria to apologize for our hasty attack on their country?
Dear lord, I hope not.
Citations: Jared Kushner's foreign policy role grows despite lack of experience (CBS News)