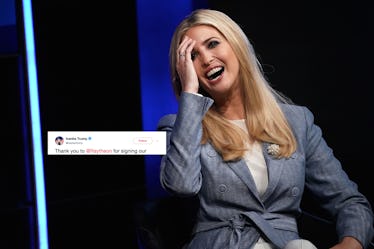 Ivanka Trump Tweeted Something Totally Irrelevant During The Cohen & Manafort Drama
Alex Wong/Getty Images News/Getty Images
Oh, Ivanka. The first daughter has been very good of late about staying on message and staying above drama, and her tweet on Aug. 22 isn't changing that tendency. But honestly, staying above the drama is starting to feel a little weird, considering that it seems like the news coming out of the Trump administration is nothing but drama these days. Seriously, Ivanka Trump's tweet during the Cohen and Manafort drama basically seems like her last ditch effort to pretend that everything is fine. Keep telling yourself that, girl.
While everyone can't stop talking about all the political uproar involving Michael Cohen and Paul Manafort, first daughter Ivanka Trump appears to be avoiding all the commotion. On Aug. 22, just a day after Michael Cohen accepted a plea deal and Paul Manafort was found guilty on eight counts of fraud, Ivanka Trump tweeted about an upcoming partnership that honestly might be the only good news we hear this week.
According to Ivanka Trump's tweet, United States defense and cybersecurity company Raytheon signed the White House's "Pledge to the American Worker" executive order that she says will help create more jobs for future employees, and retrain current ones.
That's great and all, but Ivanka, there are a few pressing matters at the White House that might need your attention first.
The past 24 hours certainly hasn't been an easy time for the Trump administration. Not only was Donald Trump's former campaign manager Paul Manafort found guilty on eight counts of fraud, five for tax fraud, two for bank fraud, and one for hiding foreign bank accounts, but Trump's former attorney Michael Cohen also hasn't had the easiest ride recently.
On Aug. 21, Michael Cohen pleaded guilty to eight counts of financial fraud in New York, NY, including five counts of of tax evasion, one count of false statements to financial institutions, one count of cause of unlawful corporate contribution, and one count of excessive campaign contribution. However, that's not all the attorney confessed to during the plea deal. Along with pleading guilty, Cohen also might have implied that Trump was along for the ride. During the deal, Cohen admitted to paying Stormy Daniels and Karen McDougal, two women who claimed to have had affairs with Donald Trump years ago, at "the direction of the candidate," which might indicate Trump (Trump has denied affairs with both women). Elite Daily reached out to the White House about Cohen's claims of paying Daniels and McDougal, but did not hear back in time for publication.
In a statement shared with Elite Daily, Cohen's lawyer, Lanny Davis, slammed Trump. He writes,
Michael Cohen took this step today so that his family can move on to the next chapter. This is Michael fulfilling his promise made on July 2nd to put his family and country first and tell the truth about Donald Trump. Today he stood up and testified under oath that Donald Trump directed him to commit a crime by making payments to two women for the principal purpose of influencing an election. If those payments were a crime for Michael Cohen, then why wouldn't they be a crime for Donald Trump?
I don't blame Ivanka for possibly not trying to get involved in this political chaos. After all, it's not unlike the first daughter to swiftly avoid some White House drama by jetting off to different locations, or perhaps not even mentioning it on social media.
Ivanka, your tweet might have been well intentioned, but I think it's safe to say that no one is interested in anything except this Cohen and Manafort drama at the moment. Good try though.