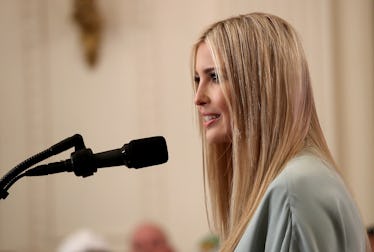 Ivanka Trump's Reported Response To The Kavanaugh Allegations Isn't Impressive
Win McNamee/Getty Images News/Getty Images
While nearly the entire world has been talking about the sexual assault allegations against Supreme Court nominee Brett Kavanaugh, which he has denied, there's one person who has yet to publicly address the topic: Ivanka Trump. In her defense, reports say that she's at least been talking to her father about the allegations behind closed doors. But ultimately, Ivanka Trump's reported response to the Kavanaugh allegations still really isn't all that impressive.
According to a Sept. 18 report from Vanity Fair, the White House has grown increasingly concerned that damaging information about Kavanaugh could be revealed amid allegations of sexual assault. It's reportedly also worried that there are witnesses who can corroborate the claims. As a result, Trump reportedly told her father to "cut bait" and withdraw Kavanaugh's nomination.
In an email to Elite Daily, a representative for the White House said of the reported comments, "This is 100 percent false." The White House did not respond to questions about the allegations themselves or any plans to withdraw the nomination.
The report comes amid calls for a halt to Kavanaugh's confirmation vote in light of allegations made by California professor Christine Blasey Ford, which were made public on Sept. 14 in a story by The New Yorker. According to Ford, the Supreme Court hopeful allegedly held her down and tried to force himself on her during a party more than 35 years ago, which allegedly left her traumatized to the point that she had to seek psychological help. Kavanaugh has vehemently denied the claim, saying, "This is a completely false allegation. I have never done anything like what the accuser describes— to her or anyone." Senate Democrats, however, have steadily been calling for an investigation into Ford's claims. Representatives of Kavanaugh did not respond to Elite Daily's request for additional comment.
Despite the backlash, it's not exactly surprising that Trump hasn't addressed the subject publicly, as she tends to stay away from commenting on controversial topics. Back when the highly-controversial "zero tolerance" policy, which permitted the separation of migrant families who had crossed into the United States illegally, was still in effect in spring 2018 Trump also initially failed to address the ordeal publicly. Instead, she reportedly only offered up a bleak response to her father, telling him, "We should be dealing with this," according to New York Rep. Chris Collins on June 19. New York Times reporter Maggie Haberman also shared reported details of what went down when the first daughter brought up the separation policy. The same day, she tweeted out that Trump had reportedly approached her father and asked, "Daddy, what are we doing about this?" To which President Donald Trump reportedly responded that it's a "tough issue" and changed the subject. Elite Daily reached out to the White House for comment on Trump's reported input at the time, but did not hear back.
Trump finally spoke up once the policy was scrapped on June 20 with this tweet:
Thank you @POTUS for taking critical action ending family separation at our border. Congress must now act + find a lasting solution that is consistent with our shared values;the same values that so many come here seeking as they endeavor to create a better life for their families
She followed up by calling the separation policy a "low point" that she felt "very strong about" that August, telling Axios:
That was a low point for me as well. I feel very strongly about that, and I am very vehemently against family separation and the separation of parents and children. ... I think immigration is incredibly complex as a topic, illegal immigration is incredibly complicated.
So, with any luck, perhaps Trump will eventually speak up on the Kavanaugh allegations. Now, whether she'll do it soon or once the issue is squared away, like she's done before? Who knows.