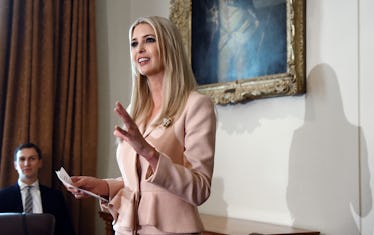 Ivanka Trump's Comments On The Family Separation Policy Are Quite An Understatement
Pool/Getty Images News/Getty Images
Ivanka Trump has positioned herself as the more reasonable voice within her father's administration, but sometimes she seems more reasonable than other times. And this doesn't seems to be one of her best moments. During an interview at an Axios 360 event on Thursday, Aug. 2, Ivanka Trump called family separations a "low point," and, uh... it's quite an understatement.
At a sit-down interview at the Axios event in Washington D.C., Trump shared her opinion on many topics of the moment, including labor policies, American businesses, her project of paid family leave, and even the Russia investigation. But it was her comment about President Donald Trump's controversial "zero tolerance" immigration policy, which resulted in thousands of migrant children being separated from their families for weeks or even months, that really raised some eyebrows.
Asked about her high and low points in the White House, Trump said she agreed with other members of the White House who called the policy a "low point." She said in part,
That was a low point for me as well. I feel very strongly about that, and I am very vehemently against family separation and the separation of parents and children. ... I think immigration is incredibly complex as a topic, illegal immigration is incredibly complicated.
She continued on to say that, however, America is a "country of laws," and that "we" have to be careful about incentivizing behavior that puts children in danger, including the risk of being trafficked or crossing the border alone.
Trump's statement about the separations is a pretty major understatement, considering the intense and bipartisan blowback the Trump administration got for the policy. In early April, Attorney General Jeff Sessions announced that all adults crossing the border without documentation outside of a checkpoint would be referred for prosecution, even if they were claiming asylum. As children are not legally permitted to be detained with adults, this meant that some 2,000-plus children, some as young as infants, were separated from their families and sent to shelters or separate detention facilities. People across the political spectrum were horrified, with Republican and Democratic politicians, medical associations such as the American Academy of Pediatrics, and even all five living first ladies — including President Trump's own wife, Melania — coming out against the policy.
On social media, some people were upset that Ivanka Trump didn't condemn the policy in stronger terms. Others were upset over the way she seemed to victim-blame the parents who chose to take their children across the border.
For some people, it was all the more outrageous because many of the children still haven't been reunited with their families. In late July, the Trump administration admitted in court that over 400 parents may have been deported without their children, who remain in U.S. government custody.
Even more, the Trump administration has not stopped trying to detain migrant children in violation of current U.S. law. Since President Trump signed an executive order on June 20 ending the policy of family separations, the administration has been pressing federal courts to change the law which prohibits detaining migrant children for long periods. The current law, known as the Flores agreement, prohibits children from being detained for more than 20 days, whether or not they are with a parent. The Trump administration has been seeking to change the law in order to allow children to be detained indefinitely with their parents or guardians so that the adults can be prosecuted without splitting families. On July 20, a federal judge shut down the request, calling the administration's reasoning "dubious and unconvincing," "tortured," and, "procedurally improper and wholly without merit."
In all of this, it's not the first time Ivanka Trump herself came in for criticism involving the zero tolerance policy, either. When the reports of the family separations first broke, Trump decided it was a good moment to tweet out a photo of herself holding her own son lovingly. It... did not go well.
People were not happy then, either.
Politics can be divisive, vitriolic, and full of conflict — but it's perhaps reassuring to see that the thing that most people seem able to agree on is that traumatizing children by taking them away from their families is not a political issue. Ivanka Trump seems to have the basics of it down — but based on all these reactions she might want to think about taking her words, not to mention actions, on the issue up a notch.