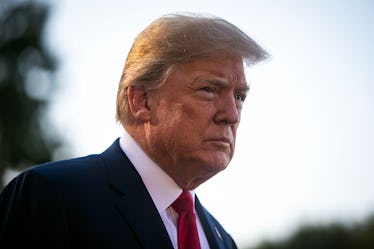 The Trump Admin Got Shut Down So Hard About Detaining Migrant Children, & Wow
Al Drago/Getty Images News/Getty Images
President Donald Trump seems to believe that he can just sign executive orders and get away with almost anything, which is most definitely not the case. After enforcing his "zero tolerance" immigration policy along the U.S.-Mexico border in April of this year, which effectively separated migrant children from their parents in detention centers, Trump signed an executive order to keep families detained together, which would have required circumventing an old rule against detaining children indefinitely. But now a judge has rejected the administration's request to change this rule, and as a result the Trump administration cannot detain migrant children indefinitely. Let me tell you, the ruling is worth reading.
Judge Dolly Gee did the honors of dismissing Trump's request to amend a 1997 law that does not allow children to be detained for more than 20 days under federal law, according to NPR. In her July 10 ruling, Judge Gee described the Trump administration's reasoning for wanting to change the law to suit their needs as "dubious and unconvincing," "tortured," and, "procedurally improper and wholly without merit."
Ouch. Talk about completely annihilating an argument to shreds. In my mind, if the Trump administration's request were a college history paper, it'd definitely have red pen marks scribbled all over it.
Judge Gee also went on to write in her ruling that,
It is apparent that Defendants' Application is a cynical attempt ... to shift responsibility to the Judiciary for over 20 years of Congressional inaction and ill-considered Executive action that have led to the current stalemate.
The law that Trump attempted to amend, commonly referred to as the Flores Settlement, forbids the government from detaining migrant children for more than 20 days, even if they are with their families.
Under the "zero tolerance policy," adult migrants have been prosecuted and separated from their children, who due to the Flores Settlement weren't able to be detained with the adults. Following mass international backlash, on June 20 Trump signed an order to keep families together while still prosecuting the adults, an order which brought up the question of the Flores Settlement.
The Flores Settlement is a roadblock for Trump's executive order: to have his order properly enforced, the courts would have to approve for the Flores Settlement to be modified and allow for children to be detained with their families indefinitely while the adults are prosecuted for crossing the border illegally. On June 21 the Department of Justice (DOJ) filed a motion in federal court to change the law so that it would "permit family detention during immigration proceedings."
But their request was flat out denied. At the time of publication, the DOJ has not yet announced whether or not they intend to appeal Judge Gee's ruling — but they did express their displeasure with her ruling. "We disagree with the court's ruling declining to amend the Flores Agreement to recognize the current crisis of families making the dangerous and unlawful journey across our southern border," said DOJ spokesman Devin O'Malley in a statement, according to NPR.
Judge Gee's ruling comes after yet another failed attempt on the Trump administration's part to uphold their seemingly unorganized immigration policies. On July 9, the administration announced that it would not meet the July 10 deadline — set in a separate court order on June 26 — that would reunite all migrant children that are under 5 years old with their families. According to Vox, about 20 children that fall under this particular deadline have yet to be reunited with their families.
The public outrage that Trump's immigration policies have caused nearly one-and-a-half years into his presidency has been incredibly overwhelming. But thankfully, the court system is in the position to check the president when his actions become excessive — and checking the president is even better when it's done with the expertise (and straight fire) that Judge Gee demonstrated.