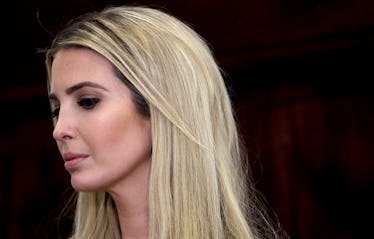 Ivanka Trump Tweeted A Tribute to MLK, Jr. & Twitter Is Calling Her Out
Win McNamee/Getty Images News/Getty Images
The first daughter was under fire again on Monday, Jan. 15 for sharing a tribute to Martin Luther King, Jr. on Twitter. This year's holiday honoring the civil rights leader comes at a fraught moment for Donald Trump's presidency. And by association, Ivanka Trump's MLK Jr. Day tweet is drawing criticism.
"Dr. Martin Luther King Jr. was one of the world's great heroes," wrote Ivanka Trump on Twitter, sharing a black-and-white photo of King. "Today we honor his profound life and legacy."
But she was up against a veritable wall of criticism over her tweet.
"You may want to remind your dad to honor MLK instead of tweeting about himself before heading out to the golf course," wrote one user. President Trump did send two tweets on Sunday and Monday about the Deferred Action for Childhood Arrivals (DACA) program, which appears to be in dire straits as Congress struggles to reach a deal to keep it afloat. Trump made the decision last year to end the program, which allows certain immigrants who were brought to the United States as children to live and work in the country without being deported.
It's been a live-wire week in politics. On Friday, Jan. 12, the president sent shockwaves reverberating far beyond the Washington swamp. After he reportedly referred to Haiti and African nations as "sh*thole countries" in an Oval Office meeting Thursday with lawmakers to discuss DACA, many were quick to label the president racist (he's denied that accusation). News anchors took time out of primetime segments to decry the president's alleged comment, while some world leaders denounced it. So it was hardly good timing when the first daughter shared her tribute to the iconic leader on Monday.
But the incident spurred many people to call out what they see as a history of Trump's racism.
In the last year alone, the president's words and actions pertaining to race have been highly controversial. Right off the bat, Trump signed the "travel ban," an executive order banning people from seven predominantly Muslim countries from entering the United States. Then there was his feud with NFL players over protesting the national anthem to make a statement about police brutality towards black people — and The New Yorker cover for this week depicts King linking arms with athletes Colin Kaepernick and Michael Bennett, whose protests Trump has clearly opposed. And lest we forget, there was the "both sides" flip-flop he made in the wake of the Charlottesville attack, in which Trump was criticized for failing to denounce white supremacy. Instead, he placed blame on the counter-protestors as well.
In response to her tweet, many users tore into the younger Trump over what they saw as her complicity in not taking a stronger stance against her father, his words, and his policy in regards to racism. "You deserve blame for every racist, misogynistic word he utters, Ivanka," wrote user Justin Hendrix.
Several users shared quotes by King himself about not taking action in the face of injustice as they implied that the first daughter was complicit in her father's actions.
Another user referrenced a viral tweet about complicity by former acting Attorney General Sally Yates, who was fired by the president early in 2017 after refusing to defend his travel ban. Since then, she has been outspoken against him, saying in an October 2017 tweet that President Trump has a "complete indifference to truth." (The ban, by the way, was allowed to go into effect by the Supreme Court in December, but Trump's latest "sh*thole countries" remark could jeopardize the executive order's legality.)
Another user opted for a gut-punch by commenting on Trump's tweet with a video clip from the Saturday Night Live sketch mocking her via an ad for a fake perfume called "Complicit."
Other users took a more direct stance against the president's latest comments about immigrants and their home countries.
One user trolled Trump by sharing a February 2016 article from The Washington Post about his father's involvement in a Klu Klux Klan riot after Trump declined to reject David Duke's support.
There were loads more call-out tweets where those came from. While the first daughter might have meant well in her tribute to King, the internet wasn't about to let her off the hook.