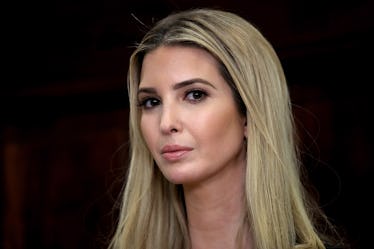 No One Can Get Over The Bad Timing Of Ivanka Trump's Latest IG Post
Win McNamee/Getty Images News/Getty Images
It's safe to say the Trumps are not having a good Thursday. Since the social media explosion following Trump's controversial "sh*thole countries" comment, you would think it would be a good idea for the Trumps to keep a low profile for the time being. Well, someone clearly didn't pass on the memo because Ivanka Trump posted a Human Trafficking Awareness Day Instagram around 6 p.m. ET, shortly after her father's terrible comments on immigration. This family really needs to work on communicating more.
UPDATE: Donald Trump tweeted on Friday morning, Jan. 12, that "the language used by me at the DACA meeting was tough, but this was not the language used." Illinois Senator Dick Durbin, who was present for the immigration meeting, said on Friday that Trump did, in fact, use those words.
EARLIER: The first daughter took to social media on Jan. 11 to "pledge solidarity" with the survivors of human trafficking. In the post, Ivanka Trump holds a sign reading #WearBlueDay and sports a baby blue dress herself. She provided a full caption on Instagram detailing the mission behind #WearBlueDay and outlines the seriousness of this issue worldwide. She wrote,
Today on #HumanTraffickingAwarenessDay we pledge our solidarity with survivors of human trafficking and recommit to ensuring an overdue end to modern slavery in all of its evil forms. We must work together and redouble our efforts to address these horrific crimes here in the United States and around the globe. #EndTrafficking#WearBlueDay
Um, Ivanka, I've got some news for you, and you're probably not going to like it.
Also, please note that the Instagram's location is "the White House." Little does she know what's happening just a few doors down from her. I'm cringing.
Because the timing of this Instagram just couldn't be any worse. Earlier on Jan. 11 Donald Trump reportedly referred to Haiti and a number of African countries as "sh*thole countries" during an Oval Office meeting with Congressional leaders. The president reportedly asked why the United States should accept immigrants from countries like Haiti, El Salvador and Guatemala, asking why the United States couldn't instead take immigrants from places like Norway. The comments naturally sparked huge backlash from Twitter and the media, with people calling the president out for his lack of feeling and the racist overtones of his comment.
But despite the inopportune timing of Ivanka Trump's post, let's not ignore the seriousness of human trafficking. The International Labour Organization estimates that there are over 20 million victims of human trafficking worldwide, and more than half of them are women and girls. And it's not a distant problem, either. Anti-slavery organization Polaris reports that its National Human Trafficking Hotline averages about 100 calls a day, with more than 31,000 cases of human trafficking reported to the hotline in the past eight years.
And her post is in another way, very timely: January is National Slavery and Human Trafficking Prevention Month, which was started in 2011 by former President Barack Obama. The anniversary of this proclamation, Jan. 11, became known as Human Trafficking Awareness Day. In the announcement of the newly observed month, Obama said,
During National Slavery and Human Trafficking Prevention Month, we resolve to shine a light on every dark corner where human trafficking still threatens the basic rights and freedoms of others. From factories and brothels to farms and mines, millions of men, women, and children in the United States and around the world are exploited for their bodies and their labor. Whether through violence, deceit, or the promises of a better life, some of the most vulnerable populations among us -- including migrants and refugees fleeing conflict or disaster, homeless LGBT youth, Alaska Native and American Indian women and girls, and children in poverty -- are preyed upon by human traffickers. In order to rid the world of modern slavery we must do everything in our power to combat these violations of human decency.
The U.S. Department of State has released fifteen ways Americans can do our part to help end this international pandemic, including how to identify human trafficking, reporting to the National Human Trafficking Hotline, and volunteering, among others.
So while the Instagram may have come at an awkward time, the message is still important. Good on Ivanka Trump for highlighting humanity.