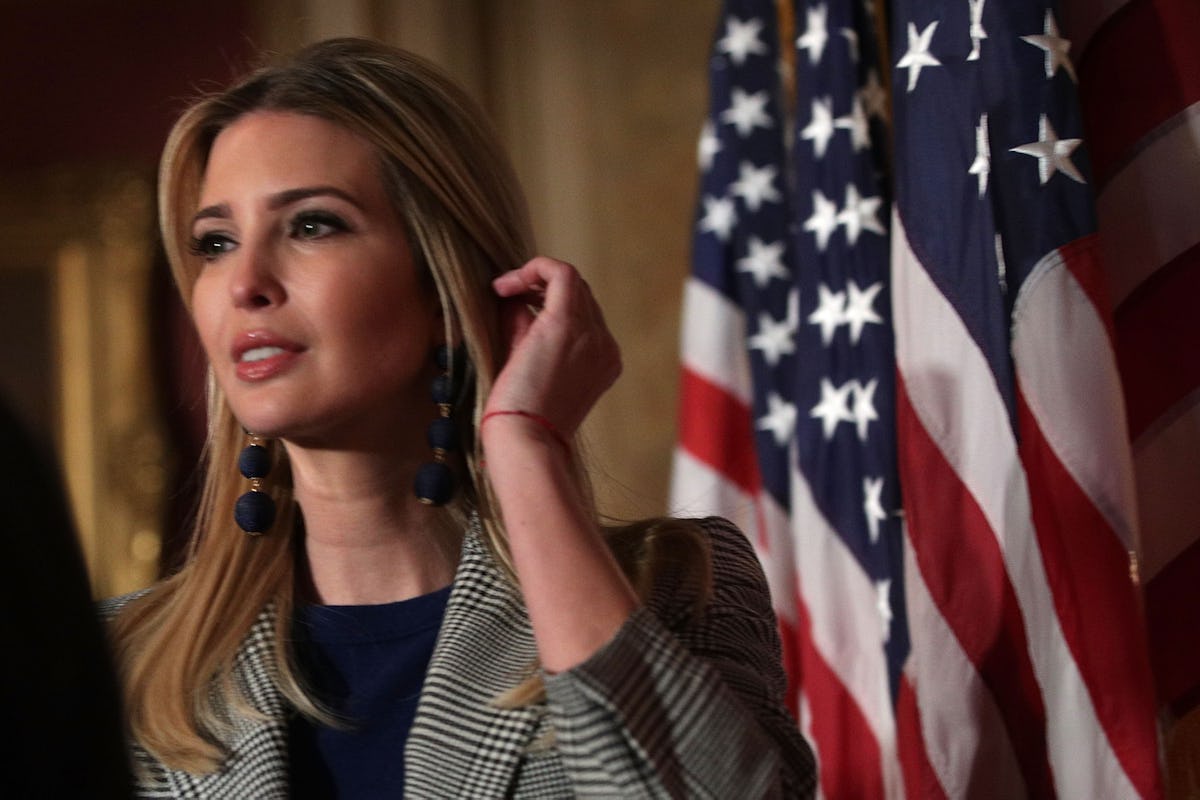 Ivanka Trump's 2016 Vs. 2017 Could Not Be More Different
Alex Wong/Getty Images News/Getty Images
Following the results of the 2016 election everyone's world was effectively flipped upside-down, but nobody's lives changed more than the lives of all the Trump family members. Most of the attention has been focused on President Donald Trump and how he continues to lead his administration, but there are other members of the Trump family that have also made their presence in the White House known. Namely, Trump's eldest daughter, Ivanka Trump. Under her father's administration, the first daughter has stepped up to the plate and has become a full-blown public servant. So one thing's for sure: Ivanka Trump's 2016 vs. 2017 could not be more different.
In 2016 when she wasn't campaigning for her father, Ivanka Trump was successfully managing her brand and many brand extensions. Her fashion line alone made an estimated $5 million from Jan. 2016 and March 2017, according to Newsweek. She also profited from an investment from the Trump Old Post Office LLC investment in Washington, D.C., which is reported to have contributed to her rental income of up to $5 million.
With the success of her businesses and investments, following the 2016 election Ivanka made it clear that she didn't intend to have a role in Trump's White House Administration at all. In an interview with 60 Minutes just after her father's victory in the 2016 election, Ivanka stated that she would simply be "a daughter" and not take part in the administration.
However, Ivanka's feelings changed.
Later, she announced that she had decided to make an impact in the White House, which she expressed in an April 5 interview with Gayle King on CBS This Morning.
"I wanted to understand where I could be an asset to the administration, and how I could help my father and ultimately the country," she said.
Another big difference that came of this? Trump no longer has an annual salary. In her quest to become a vetted White House staffer, which was confirmed on March 29, Trump decided to forego a government paycheck and became an effective volunteer for her father's administration. She said in a statement,
I have heard the concerns some have with my advising the President in my personal capacity while voluntarily complying with all ethics rules and I will instead serve as an unpaid employee in the White House Office, subject to all of the same rules as other federal employees.
Although Ivanka doesn't technically earn an income now that she's working at the White House as an aide in her capacity, she still has a crazy solo net worth of $300 million. And when combined husband Jared Kushner's assets (which includes a $25 million art collection), their net worth as a family is reported to be valued at $762 million, according to Business Insider.
A less politically influential change? Her eyes.
Another thing that the media noticed about Ivanka Trump's transformation? The fact that her eye color seemed to be dramatically changing. Esquire first notices the changes back in 2016, while still on the campaign trail supporting the then-GOP candidate Donald Trump. Then sometime around April of 2017, the media picked up on Ivanka's eye color changing which quickly gained a ton of social media attention.
Ivanka has never explicitly stated if she actually does wear color contacts, and why. It could be just a confidence thing, or related to how she wants to appear on camera at different televised events. But the public definitely took notice and didn't let her live it down. It's a relatively ridiculous thing to cover considering there are more important things to talk about regarding Trump's administration. But nevertheless, the story gained traction.
Back in 2016 at the Republican National Convention, Ivanka came on stage and made a speech, where her eyes appeared to be a light hazel color.
Then in a 60 Minutes interview following Donald Trump's election night win in November, Ivanka came on air with brighter, green looking eyes.
But then in 2017, Ivanka has seemingly returned to a deep-brown eye color, as evidenced by this snap of her staring lovingly at Justin Trudeau during a meeting at the White House.
There's no telling what 2018 will bring, both for Ivanka Trump and for the entire first family — as well as for all American citizens. So while we don't know exactly what will happen in the coming year, we can only hope that this past year of political and social instability has better equipped us for what the next year will bring.