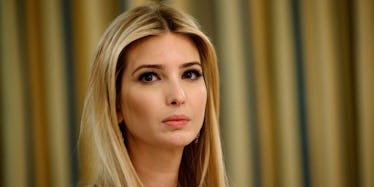 Ivanka Trump Changed Her Eye Color And You Completely Missed It
REUTERS
Ivanka Trump is getting some extra notice lately.
Well, more accurately, Trump's eyes are getting some extra notice lately.
As she makes more and more public appearances in her new official role in the White House, people are looking closely and realizing Trump's eyes may not be what they appear.
As it turns out, if you stare deeply into Trump's eyes, you'll notice they change repeatedly over time.
At various different public appearances, Trump's eyes are different colors. Naturally, her eyes -- like her hair -- are brown.
But sometimes, she changes it up. Her eyes have appeared a lighter hazel, green and even blue at various points over time, including during the 2016 presidential election.
Check out the changes for yourself:
As you can see, Trump's eyes are a revolution over time.
There doesn't appear to be an exact method to the eye-color-changing madness.
Her eyes were brown when she stared at Justin Trudeau.
But they were green when she had a controversial interview with Gayle King on CBS.
This eye color phenomenon has been noticed at least as far back as early November, when Esquire questioned Trump's eye color.
Then, press representatives did not respond to Esquire's request for comment on if she wears color-changing contacts, so we just have to go off common sense and say that's what's happening (it's more likely than her eyes spontaneously changing color on opposite sides of the genetic spectrum).
Although some women have said their eyes changed colors over the course of pregnancy -- and Trump was pregnant last year -- that doesn't explain why the color hopped around so much.
Maybe she likes the way it looks and it gives her confidence. Maybe she wants to give off a lighter tone to be more likable (see: all the Disney characters with blue eyes), which, yeah, is a racial thing.
And if you really want to go down the conspiracy theory rabbit hole (and I know you do), you could consider the implications of making oneself blonde and blue-eyed. Like what Nazis like.
As this news continues to be reported, many people are wondering why.
There is certainly a lot going on in the Trump world. But you clicked here, didn't you?
Citations: Ivanka Trump Changed Her Eye Color and No One Noticed (E! Online), Esquire