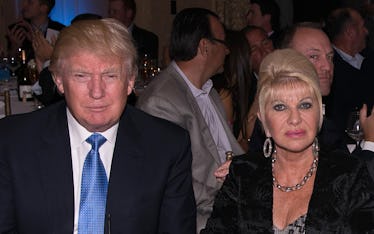 Donald Trump's Ex-Wife Thinks It's "Unnecessary" That He Runs In 2020, & Same
Dave Kotinsky/Getty Images Entertainment/Getty Images
Before you know, it Election Day 2020 will be here — and so far, it looks like President Donald Trump will run for reelection. However, there are some people who think that Trump should give it a rest, including one of his ex-wives. Here's Ivana Trump's thoughts on Donald Trump running for reelection in 2020: "I don't think it's necessary." I feel you, Ivana.
During an April 21 interview with Page Six, Ivana shared that she doesn't want Trump to run again. "I'll tell you something," Trump's first wife said. "I don't think it's necessary."
Ivana explained to Page Six that she believes there's no reason for Trump 2020. He's getting older and has everything he could possibly want, so he should just wave goodbye and make his commitment to the golf links official. She said,
He has a good life and he has everything. Donald is going to be 74, 73 for the next [election] and maybe he should just go and play golf and enjoy his fortune.
Trump's ex-wife also confessed that the presidency is probably a little too much for Trump. She feels that Trump maybe didn't fully understand what the job of president actually entails (I'm shocked). She said,
I think he probably [misses] a little bit of freedom, I don't think he probably knew how much is involved of being the president. It's so [much] information — you have to know the whole world.
After meeting at a fashion show in New York City, Ivana and Trump married in 1977. They had three children together: Donald Trump Jr., Ivanka Trump, and Eric Trump. In 1990, the couple called it quits. Despite the bitter end to their marriage, Ivana and Trump are still close, according to Page Six.
Ivana said that she and Trump still speak every month, and she was even the one to break the news to him back in March that Don Jr. and Vanessa Trump were getting divorced.
Though not confirmed, there have been rumors that Don Jr. had an affair with reality-television star Aubrey O'Day back in 2011 on the set of Celebrity Apprentice. Apparently, O'Day won't "kiss and tell" about the alleged affair, and Don Jr. has not spoken about it publicly. Representatives of O'Day and Trump Jr. did not immediately reply to Elite Daily's requests for comment on the alleged affair.
According to Page Six, Ivana commented on the alleged affair, and said, "It's always distressing, because I've been there. But who am I to judge and who knows what was the situation at that moment?"
Ivana also said that even though the alleged affair between Don Jr. and O'Day was back in 2011-2012, maybe Vanessa found herself just not being able to get over it. She also added that she doesn't know any men who are capable of being faithful. Per Page Six, Ivana said,
It's a long time ago now, so I think Vanessa knew it all along and maybe she just couldn't get over the hurt to forgive him. But I honestly don't know that many men who can keep their zippers up.
Unfortunately, Ivana has a lot of women on the Trump family tree to sympathize with these days. Stormy Daniels has claimed that she had an affair with Trump during his marriage to Melania. Even though Trump has denied all of Daniels' claims, the rumor mill is still whirling. Ivana had some thoughts on Melania's current predicament, and told Page Six, "I feel bad for [Melania] because I know how bad I did feel. It hurts a lot."
She then said that she couldn't live with Trump after finding out about his alleged affair with Maples. Elite Daily reached out to the Trump administration for comment on the alleged affair but did not hear back by the time of publication.
I divorced Donald immediately [after I discovered the Maples affair] because I told myself, 'Am I going to live with the person [who] is going to say, 'I'm going to go and play golf' [leaving me to] think, 'Is he really going to go and play golf?' I cannot do it. I have pride and I have dignity and stuff like that, but so many women, around the world, they live with the men knowing that they are cheating and stuff like that. Everybody handles their situation their own way.
After being married to him and having three children together, I would say that Ivana probably knows Trump pretty well. So if she thinks he shouldn't run again in 2020, well, who are we to say anything else?