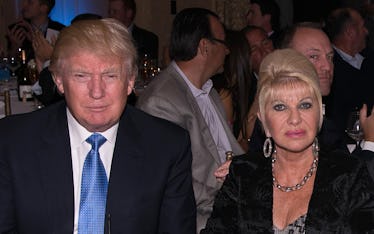 The Reason Donald & Ivana Trump Got Divorced Is Exactly What You'd Expect
Dave Kotinsky/Getty Images Entertainment/Getty Images
Ivana Trump, the mother of Donald Jr., Ivanka, and Eric Trump, is perhaps one of the most famous ex-wives in America today. The president, now on his third wife, has had a love life that's been the topic of gossip circles for decades, and understandably so. Why Donald and Ivana Trump got divorced is its own tale altogether.
Ivana, a Czeck immigrant, met Donald Trump in 1976 while attending a fashion show in New York, according to the New York Post. By the next year, the couple had married, and in short order had had three kids and became steady figures in the New York socialite scene.
But the power couple's tabloid-worthy marriage came to a screeching halt with a bitter divorce in 1990. Though Trump's business dealings were certainly a point of stress for the partners, it was domestic tension that ultimately caused the breakup. The reason is not exactly a shocker: Trump was having an affair.
Beginning in 1987, Trump had a widely-publicized relationship with Marla Maples, a blond model-actress from Georgia who was then 26. The two met in New York City, Newsweek reports, when Trump was throwing a party to celebration the publication of his book, The Art of the Deal. Maples began to frequent Atlantic City, and the affair dominated headlines during the late eighties. Already a father of three, Trump tried to keep his mistress hidden from the spotlight, according to Vanity Fair. But their relationship, chased by the paparazzi, was far from out of sight, and it reportedly took a toll on the young Trump children.
In her new book, Raising Trump, Ivana writes about the time in December 1989 when she was confronted by Maples at a ski resort in Aspen, per AP. "This young blonde woman approached me out of the blue and said 'I'm Marla and I love your husband. Do you?' I said 'Get lost. I love my husband.' It was unladylike but I was in shock." Apparently it was in this moment she realized her marriage with Donald was over.
Trump alluded to his extramarital affair in a 1994 interview with ABC Primetime Live, per the New York Daily News, calling his life at the time "a bowl of cherries." He added, "The business was so great ... a beautiful girlfriend, a beautiful wife, a beautiful everything." He also muses that, if the Marla-Ivana confrontation hadn't happened, it's possible he would've continued on seeing his mistress. But neither Ivana nor Marla would end up being Donald's last wife.
Trump has been married three times, for those of you keeping score at home. Each of Trump's weddings was memorable in its own way, in keeping with Trump's penchant for the extravagant. In his 1993 nuptials at his second wedding, the caviar alone cost $60,000, a small sum compared to the $2 million tiara she borrowed; and his third marriage to Melania, in 2005, included a 200-pound wedding cake, one of the most expensive known cakes in modern history. The bride's $100,000 Christian Dior gown was adorned with 1,500 crystals, rendering it so heavy that Melania was told to be sure to eat before the wedding, per Vogue, so she'd have the strength to wear it.
But unlike his last two weddings, Donald Trump's first marriage to Ivana in 1977 was strangely private; it's almost impossible to find any photographic evidence of their big day on the internet. But we do know that it took place in the Marble Collegiate Church and that the New York mayor was present, per Vanity Fair.
The Donald-Ivana relationship on the whole was oddly transactional. Trump once said of his cutthroat prenup, per Newsweek, "I would never buy Ivana any decent jewels or pictures. Why give her negotiable assets?" Ah, marriage: Such a romantic institution! Their prenup was amended a few times after this; on Christmas Eve of 1987, Trump reportedly asked her to resign an updated agreement, giving her $25 million. In the end, Ivana made out with $14 million, among other perks, after a months-long battle of divorce proceedings that reached a settlement in 1991.
In fact, Trump blamed the divorce in part on the entanglement between Ivana and his business. Trump, early on, brought her in on his real estate empire. She worked at the Trump Organization as a president for his Atlantic City casino, Cosmopolitan reports, and later a manager for the Plaza Hotel, which he bought in 1988, per People.
"I will pay her one dollar a year and all the dresses she can buy!" he said of the arrangement, according to Vanity Fair. Trump later gave Ivana the position of vice president of interior design at the Trump Organization after their marriage, Newsweek reports.
Trump went on to marry Maples in 1993, two months after she'd had her first child by him — Tiffany Ariana. But that marriage would only last until 1999.
It's been two marriages and over thirty years since Marla came into the picture, and it appears Ivana has found her own name for herself, and still manages to even have a working relationship with her ex-husband. Despite the messy divorce and the affair that precipitated it, Ivana and Donald have stayed on reportedly good terms, and even talk about once a week, per AP.