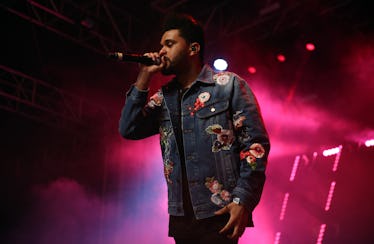 The Weeknd Just Missed A Major Reunion With 2 Of His Exes At The Met Gala
Rich Fury/Getty Images Entertainment/Getty Images
There's the Oscars, Grammys, Emmys, Tonys, etc, but I have to say that my favorite gathering of A-list celebs is the Met Gala. I will never fully understand what actually goes on there or why it's necessary, but every year, no matter what the theme is, I totally wish I was invited. Speaking of people who are actually invited to the swankfest, is The Weeknd at the 2018 Met Gala? Looks like like he chose to skip it this year. And, uh... can you blame him?
We might be used to The Weeknd showing up at the Met Gala with his current bae, but this year it looks like he skipped the 2018 gala, and dodged running into not one, but two of his exes (and former Met Gala dates): Selena Gomez and Bella Hadid.
Last year, The Weeknd and Selena Gomez dazzled at the 2017 Met Gala. Their outfits weren't as kitschy as I have come to expect (and love) about the Met Gala's couples attire, but Gomez brought it in a floor-length Coachella-meets-Romeo & Juliet Coach gown, while The Weeknd rocked a classic black tux.
But he totally missed Gomez showing up in another very simple and romantic look at 2018's gala white carpet:
Who else was there to share the red carpet at the 2017 Met Gala? Oh, that's right, The Weeknd's ex, Bella Hadid, who floored everyone by showing up solo and rocking the perfect "sorry-not-sorry" backless gown.
Total stans will remember that just a year earlier, at the 2016 Met Gala, The Weeknd and Hadid were on that carpet together as a couple, and fans thought that maybe we would see them together again on the 2018 red carpet.
But no, Hadid rocked the carpet all on her own and The Weeknd completely missed her perfectly extra getup.
Hadid and The Weeknd called it quits back in 2016, but reports are swirling that the two might be rekindling their romance. According to E!, the model and singer were spotted "kissing all night" at Coachella 2018. A source told E! that the "estranged" couple spent the entire night together and were very "affectionate." The source said,
They spent the whole night together and left together. Bella looked really happy. They were definitely super affectionate, cuddling each other while hanging out with their friends.
What's going on?
A source told E! that Hadid never fully got over The Weeknd. "Bella never really lost feeling for Abel and had hope they would eventually get back together," they said. The source also added that Hadid and the "Starboy" singer have been "secretly seeing each other recently" but it's "not official." Apparently, it's The Weeknd who doesn't want to seal the deal and is enjoying "playing the field" and "openly dating" other women, according to E!.
The source added that Hadid enjoys hanging out with The Weeknd and maybe there's hope for the future. The source said,
They are just getting back to a good place. She loves hanging out with Abel and they always have fun together and is very hopeful of their future relationship.
Hadid, however, denies all reports that she and The Weeknd are back together. E! initially posted about the Coachella PDA on their Instagram account on April 16. The caption read,
The Weeknd and Bella Hadid were spotted "kissing all night" at a #Coachella after party and it's safe to say we didn't feel it coming. Link in bio for more on their desert reunion.
Hadid commented on the photo and wrote, "It wasn't me," with a shrug emoji and a spy emoji. So, was it really not her or is Hadid just instead trying to keep the relationship on the DL? Or maybe, Hadid is trying to save face because The Weeknd is having too much fun playing the field with another pop star's ex-girlfriend.
During 2018 Coachella, The Weeknd was also spotted getting pretty close with Justin Bieber's ex Chantel Jeffries, according to Elle. Jeffries was seen putting her head on The Weeknd's shoulder and they were seen hugging. That's innocent enough? Well, more innocent than making out under the Coachella sky.
Thankfully, the 2018 Met Gala came in clutch and cleared some things up for us. Well, at least for now. Who knows what'll be on Instagram tomorrow.