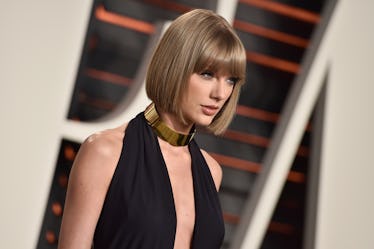 Taylor Swift Didn't Show Up To The Met Gala, But Twitter Trolled Her Anyway
Pascal Le Segretain/Getty Images Entertainment/Getty Images
OMG, it's May 7 — the Met Gala is finally here! Which means we get to see tons of incredibly artsy looks from our favorite celebrities as they strut up and down the steps of the Metropolitan Museum of Art in New York City. And as more and more celebs make their ways to the red carpet, fans have been surveying their television screens religiously in search of their idols. But there's one mega star who didn't appear: Taylor Swift. So is Taylor Swift at the 2018 Met Gala at all? I hate to break it to ya, but it looks like she had other plans.
From the jaw-dropping J. Mendel gown Swift wore to the ball in 2011 to the daring Louis Vuitton dress she wore at the event in 2016 — both of which admirably showcased her style evolution from a ingenue, good girl to a red carpet knockout —the "Look What You Made Me Do" singer has become one of the top celebrities that many viewers look forward to seeing at the gala. This year, however, she isn't in attendance. (Sorry, Swifties.) While the reason for her absence is a bit unclear, I'm guessing it has to do with the fact that her Reputation stadium tour is scheduled to kick off tomorrow, May 8, in Arizona, with another four shows to follow in just two and a half weeks. So looking down the barrel at that, I wouldn't be at all surprised if she wanted to simply stay at home and relax in a pair of cozy sweatpants and an over-sized T-shirt for once.
However, that didn't stop Twitter users from trolling the singer over her decision not to attend.
Tons of people trolled her with snake references, because when is the internet not this petty?
Her absence at the gala might be especially saddening for fans because this isn't the only time she's skipped out on a major event recently. On March 11, Swift missed the iHeartRadio Awards, choosing to stay at home and release new music instead. (IDK about you, but new music from one of my favorite artists trumps seeing them for a few moments through a screen any day. So who can honestly be mad at this?) She also wasn't scheduled to perform, in contrast to previous years, anyway, so that also should give you guys a little more solace.
She did, however, post a video at the start of the show, announcing the video premiere of "Delicate," a melodic anthem from her latest album Reputation. And if I might add, she looked completely comfortable and happy.
Swift has been avoiding the public eye for a while now, though. According to the New York Post, when the first single from Reputation, "Look What You Made Me Do," was released in August 2017, Swift hadn't done any interviews or made any official public appearances to promote the single. She also disappeared from social media and her website, which left fans in search of clues for what could be going on with the singer.
Elvis Duran, host of Z100's Elvis Duran and the Morning Show, said Swift was overwhelmed by giving away so "many pieces of her life," the Post reported. He said,
[In the past,] she's been out there giving away pieces of her life, and people have run with it, and maybe taken advantage of it. I think it might have burned her to a degree. There are also some cuts on Reputation that deal with what it's like to be her. Having someone take pictures of her in the street and make thousands of dollars from them.
That same month, however, a source assured fans that everything was all good, telling People that Swift was "excited" about her album and was ready to step back into the spotlight. The insider said:
Taylor is very excited about her new album. This has been her life for the past months. She is very excited to share it with her fans. She is also ready to come out of hiding.
Well, one step at a time, I guess. There's nothing wrong with a little self-care and personal time, so enjoy your peace, Taylor. See you at the shows.