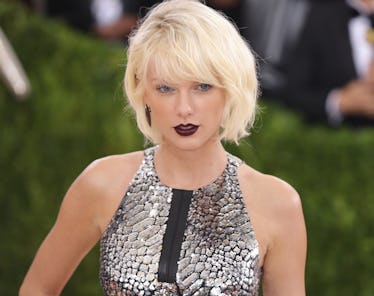 Taylor Swift's Net Worth Is Astronomical & It's About To Get Even Higher
Neilson Barnard/Getty Images Entertainment/Getty Images
When you think of the world's top-earning entertainers, there are a handful of names that come to mind: Beyoncé, Michael Jackson, Rihanna, Elvis. Maybe even The Beatles. But would you ever venture to guess Taylor Swift? If not, then you probably don't know much about the 28-year-old songstress. Swift has been on the music scene for over a decade and she's most definitely made the most of it. In fact, Taylor Swift's net worth is mindblowing. So much so that you'll probably have to step back a minute after reading this to grasp just how much money she makes.
Just what is Swift's net worth, exactly? Brace yourself because the number is pretty big.
Her net worth is $280 million, which earns her a spot on an exclusive list of high-earning entertainers. Forbes even named her one of the richest female celebrities back in 2017 and, at that time, she was the youngest person to ever make the list.
To put $280 million into perspective, Swift is currently worth almost as much as all of the Kardashians combined. She literally makes close to what an entire family of entertainment and business moguls do. Clearly, Swift is doing lots of things right. And she's doing it all her own way.
Swift got her musical start back in 2004 in Nashville, where she was heavily involved in the country music scene. Her self-titled debut album was released in 2006 and Swift won Best New Artist at the Grammys the following year.
In total, Swift has sold 31.4 million albums since her debut in 2006. And she's won a slew of awards and accolades. To date, Swift has 10 Grammy Awards to her credit, as well as 19 American Music Awards, 21 Billboard Music Awards, 12 Country Music Association Awards, 8 Academy of Country Music Awards, one Brit Award, and one Creative Arts Emmy Award.
That is a lot of awards for a 28-year-old artist, but she obviously has the chops and is deserving. There's no question about that.
Aside from dropping killer album after killer album, Swift also has touring to thank for her astronomical net worth. Her 1989 tour alone grossed $250 million in sales worldwide, nevermind all the merch she sold on the road. That tour was, unquestionably, the highest-grossing tour of 2015. That's really impressive, especially when you factor in Swift's age at the time. She was just 25 when she crowned that achievement. Amazing!
Speaking of touring, Swift is about to embark on her Reputation tour very soon. The tour starts on May 8. Swift is gearing up to be on the road for five whole months. With a grueling schedule like that, is it any wonder Swift's net worth is growing by the year? Nope!
Swift's work doesn't stop when she's done touring and recording music. In between all that, she's also doing product endorsements, which has also put her net worth over the edge. Over the course of her career, she has been the face of Verizon Wireless, launched an L.E.I. branded sundress line at Wal-Mart, served as a spokesperson and model for Diet Coke and Keds, and even designed American Greetings cards.
Swift, quite literally, does a little bit of everything. She's a multi-talented gal, for sure! She's also an incredibly smart business woman as so many of her ventures prove. And she also seems to have a knack for success; it comes easily to her. At least, she makes it look that way!
Whether you like Swift's music or not, you have to admit that she's done incredibly well for herself in a very short amount of time. She's essentially a legend in the making and she's not even 30 years old. Basically, her talent and her brand are far-reaching enough to earn her some of the best accolades (and dollars) the music business has to offer. And she's doing all she can to reach for the stars and solidify her place in music history.