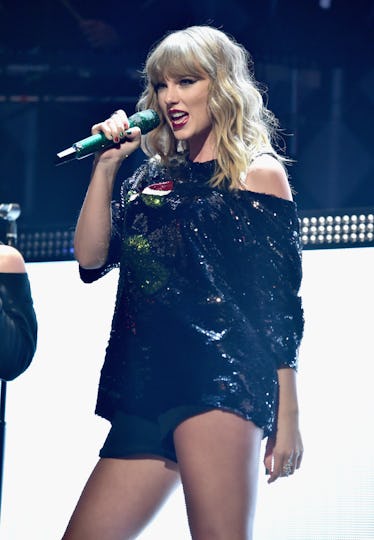 Taylor Swift Skipped The iHeartRadio Awards & Honestly I Can't Blame Her
Theo Wargo/Getty Images Entertainment/Getty Images
Taylor Swift and the iHeartRadio Awards go together like peanut butter and jelly. The pop music ceremony honoring the achievements of those they stream began in 2014, the same year that Taylor released 1989 and remade herself into a pop princess permanently. She's been nominated for, and took home, multiple awards in both 2015 and 2016. (Last year she wasn't eligible since she'd taken time off.) With that in mind, fans assumed Swift would be at the show on March 11. So, where is Taylor Swift at the 2018 iHeartRadio Music Awards? She is planning to attend, right? Actually, no.
Swift may not have been on hand at the iHeartRadio Awards show this year, since she wasn't scheduled to perform, but that doesn't mean she wasn't planning on making it into a major event for her Reputation album. She's been steadily releasing single after single from the album since August and with a tour on the way, she's not stopping now. But not having to perform meant she could also make this into an easier night than she might have had otherwise.
As the show started, she tweeted out a message to fans at home waiting with baited breath for the video's arrival. Check out how comfortably she's dressed. It beats six inch heels on the red carpet any day.
Taylor looks so comfy in a tee-shirt and casual hair. I don't know about the rest of you, but if it were me, I'd be announcing from my couch and sweat pants, and a kitty tucked in the crook on my arm.
Swift made the announcement that the video would premiere that night the same way, via another cute little low budget Instagram post earlier this week.
Check it out:
Though she is not in attendance, Taylor Swift was once again nominated in multiple categories for this year's ceremony. She was up for Female Artist of the Year, which she took home last time she was nominated for it in 2016, against Alessia Cara, Halsey, P!NK, and Rihanna. And this year she took home the award, which she accepted in a recorded speech. During her acceptance speech she said the reason she wasn't there was due to rehearsals for the upcoming tour. More than understandable.
She was also up for Best Music Video for "Look What You Made Me Do" which is a "Socially Voted" category with twelve other artists: "Bad Liar" by Selena Gomez; "Bodak Yellow" by Cardi B; "Despacito" by Luis Fonsi and Daddy Yankee; "I'm The One" by DJ Khaled; "Malibu" by Miley Cyrus; "New Rules" by Dua Lipa; "Shape Of You" by Ed Sheeran; "Sign Of The Times" by Harry Styles; "Sorry Not Sorry" by Demi Lovato; "Swish Swish" by Katy Perry; "That's What I Like" by Bruno Mars; and "There's Nothing Holding Me Back" by Shawn Mendes.
"Look What You Made Me Do" also got her a nominations for the "Best Lyrics" category, which is another "Socially Voted" category, but thankfully with not quite as many contenders. Here she was up against "Bodak Yellow" by Cardi B; "Despacito" by Luis Fonsi and Daddy Yankee; "Holding Me Back" by Shawn Mendes; "Perfect" by Ed Sheeran; and "Slow Hands" by Niall Horan.
The final two categories where she received nominations aren't technically for her. One was for her cat, Olivia, in the "Best Musicians Pets" category. Olivia was the only cat in the category which was mostly dominated by dogs including Demi Lovato's Batman, Bebe Rexha's Bear Rexha, Katy Perry's Nugget, and Ariana's Toulouse. The only other non-dog nominated is Miley's PigPig, which, as you might guess, was an oinker. (Sadly, Olivia lost. This award is for the dogs anyway.)
The other was for Best Fan Army, which is the only category Swift has been nominated for every year she's been eligible for the awards but never taken home. Like Best Music Video it too is a huge category, voted for by the fans for themselves. This year the "Swifties" were up against the Arianators, the Beliebers, the BTS Army, the Camilizers, the EXO-Ls, the Harmonizers, the Lovatics, the Mendes Army, the Mixers, the Selenators, and the Smilers.