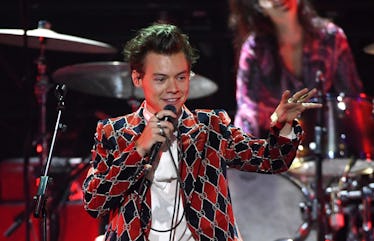 Taylor Swift's Fans Are Convinced "New Year's Day" Is About Harry Styles & I Can't Deal
Kevin Winter/Getty Images Entertainment/Getty Images
I love a good Twitter theory. I spend most days scrolling through and reading various fan theories about Taylor Swift, Reputation, and basically everything related to the pop star. You can't get anything past Swifties so I go right to the source. My curiosity got the best of me when I was wondering who is "New Year's Day" about? I honestly cannot deal with what I saw.
Some fans are thinking the last track on Swift's album is about... wait for it, you'll love this... HARRY FREAKING STYLES. Personally, I disagree. However, after reading a bit more, I can understand where fans are coming from. The "New Year's Day" lyrics could point to a past lover. The post-chorus sings out a few times during the song,
Hold on to the memories, they will hold on to you / Hold on to the memories, they will hold on to you / Hold on to the memories, they will hold on to you / And I will hold on to you
Holding on to memories of a past lover? Not out of the question for Swift. The second thing that is making fans raise an eyebrow is the song's theme around "New Year's Day."
The couple started dating at the end of 2012 and officially called it quits nearly as soon as 2013 began (maybe New Year's Day?). The relationship was significant in the sense that it provided the world with lots of entertainment, namely in the form of multiple Swift songs rumored to be about the couple — specifically, "Style" and "Out Of The Woods."
During a revealing interview with Rolling Stone in April of 2017, Styles opened up about his relationship with Swift and responded to the almost indisputable fact that the two tracks on 1989 are about him. I MEAN "STYLE" IS BASICALLY HIS LAST NAME. He also hinted he's not above writing songs about her, saying,
Certain things don't work out. There's a lot of things that can be right, and it's still wrong. In writing songs about stuff like that, I like tipping a hat to the time together. You're celebrating the fact it was powerful and made you feel something, rather than 'this didn't work out, and that's bad.'
Styles is in the music business and totally relates to writing songs about exes, so I'm sure he wouldn't mind if "New Year's Day" was about him. I think it's flattering — Swift is clearly crazy about whoever she wrote the song about. The first verse reads,
There's glitter on the floor after the party / Girls carrying their shoes down in the lobby / Candle wax and Polaroids on the hardwood floor / You and me from the night before, but
Don't read the last page / But I stay when you're lost, and I'm scared / And you're turning away / I want your midnights / But I'll be cleaning up bottles with you on New Year's Day
Swift also refers to this mystery man as the possible "toast of the town" in Verse 2.
You squeeze my hand three times in the back of the taxi / I can tell that it's gonna be a long road / I'll be there if you're the toast of the town, babe / Or if you strike out and you're crawling home
Many fans went immediately to the idea that "New Year's Day" is about Styles.
However, others (like myself) disagree and think the song is about Swift's current rumored boyfriend, Joe Alwyn.
Swift dated Styles four years ago, so maybe she's over it? However, even if I shared a cab with Harry Styles, I would literally never get over it and tell everyone I know for the rest of my life... so, who am I to judge?
We may never know who inspired "New Year's Day." One thing is for sure, Twitter will always have new Harry and Taylor connections. I honestly cannot get enough, though. Haylor for life, right? NO, STOP IT.
You can watch the full performance below:
Check out the entire Gen Why series and other videos on Facebook and the Bustle app across Apple TV, Roku, and Amazon Fire TV.