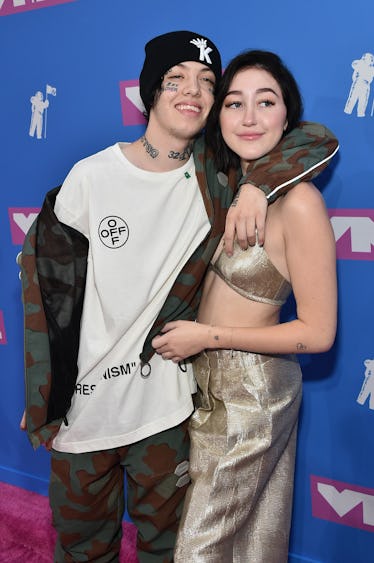 Noah Cyrus Just Dropped A New Song That May Be About Her Relationship With Lil Xan
Mike Coppola/Getty Images Entertainment/Getty Images
OK guys, we need to talk about Noah Cyrus' new song "Mad At You." Like, NOW. The 18-year-old singer dropped the tune on Sept. 6 — which was just a few days after her messy split on social media from boyfriend Lil Xan — and OMG, it kinda feels like the whole track may be about their relationship. You know, the one Lil Xan said was actually just a publicity stunt? I am seriously so confused about this entire turn of events, which is why I legit need to know: Is "Mad At You" about Lil Xan? Noah Cyrus' new song def sounds like a breakup track to me. Elite Daily reached out to Noah's team for comment on the new song and if it's about Lil Xan but did not hear back by the time of publication.
Before I dive into the lyrics, let's take a look back at how we got here. The couple was just on the red carpet at the 2018 MTV VMAs like five minutes go, sounding off about how much they loved each other and spilling the deets on their then-upcoming — but sadly, now-defunct — collab.
"Look at his cute little face and his smile," Cyrus told a reporter from Billboard as she grabbed her rapper BF's face. "He's like the sweetest ever and treats me like a princess. When I'm hungry he gets me chicken nuggets. And he tells me I'm beautiful like every five seconds of the day."
Honestly? All I want out of life is a guy who will bring me chicken nuggets and tell me I'm beautiful. I really need to know WTH went wrong with these two because I seriously don't get it.
I know they both accused each other of cheating, but the whole thing really seemed like a big misunderstanding that came out of nowhere. The kind that could have been worked out if they just sat down and talked to each other one-on-one. Nobody's perfect, you know? I mean, everybody makes mistakes. Everybody has those days.
Sorry, I'll go now.
JK, you guys! We haven't even discussed the lyrics of Cyrus' new song new yet. OK, so let's do this. Check out the opening verse:
We need to talk. You just say, I don't want to start a fight. But the minute it gets to my lips, I can feel my tongue is tied. And my eyes start to water, but I can't stop you when you lie. Baby, we need to talk. 'Cause I think that it's time I walk away. Before you start calling my name.
Could this be about Noah fighting with Lil Xan?
Now check out Verse 2:
Baby, you were the one who convinced me to run into your arms. Oh, but now that you got me, it's easy to want another love. Thinking that you'll find a better one. And now sit here waiting until you're done.
Eeeek.
Here's what fans think of the song possibly being about Lil Xan:
We may never know for sure if this song is about Lil Xan, but one thing is totally clear: If there is any future at all for these two, they're gonna have to start communicating face-to-cute-little-face.
Maybe over a nice fresh batch of chicken nuggets or something.