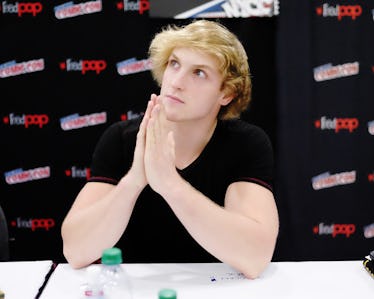 Logan Paul Made A Major Announcement About His YouTube Vlogs
Nicholas Hunt/Getty Images Entertainment/Getty Images
Logan Paul's latest video, which was posted on Sunday, April 29, kicks off with the YouTube star appearing to get emotional and setting up a big announcement. Some sad piano and violin music plays in the beginning before his usual antics start: He smashes a plate against a cement wall and starts throwing other things around, dropping the bag of potato chips he was munching on to the ground. But today is different, he says. He has news to tease — and then not deliver until the very end of the video — about if Logan Paul is still vlogging.
In the Sunday video, Paul announced that he would discontinue his daily videos, but he made it clear that he wasn't quitting YouTube entirely.
"It's a fan-driven channel, and I never thought I'd be saying this, but Logan Paul Vlogs is ... ," Paul lets his voice trail off for a beat in the video, again trying to build anticipation."Not finished! Bro, what the f*ck bro I'm not a b*tch!" Oh. OK, then.
"It is the end of the daily vlog," Paul said. "That word daily. Yeah guys, I have done a lot of vlogs every day in a row. And I'm blessed and I'm thankful. Your boy wants to exercise his creativity in different ways."
So yeah, you're going to see Logan Paul less often. I don't know how you feel about that. One of those "different ways" of exercising his creativity includes a talk show with his brother, Jake, among other things, Paul said.
"I want to dive into music," Paul added about his new creative plans. "I want to start new business ventures ... The vlog will never be finished as long as my heart stays thumpin' on this god damn planet earth."
The 23-year-old YouTuber is known for his bizarre antics that call to mind the jackass-ery of MTV's Jackass series — pranks and jump scares and smashing things and epic fails. This year he became a household name for posting an insensitive vlog that featured an apparent suicide victim hanging from a tree in the Aokigahara Forest in Japan.
Paul said that he intended to raise awareness of suicide and suicide prevention with that particular vlog, but that he was "misguided by shock and awe." He took a break from YouTube in January and then returned with another questionable video, attempting to concentrate on suicide prevention more overtly, which kind of seemed exploitative to many viewers.
His videos are wildly popular with young people, and Forbes reported that his net income was about $12.5 million in 2017. When he announced Sunday that he would discontinue his daily vlogs, there was a bit of a mixed response on Twitter, both from adoring fans and confused non-fans.
"YouTube is not my career," Paul said in his announcement video. "This is a hobby. I hopped on this platform like two years ago. I have diversified, bro. I've got my tentacles spread out in a lot of industries."
He's diversified, bro.
In the wake of the suicide forest scandal, more mainstream media outlets reported on the Paul brothers. The Pauls initially gained traction online making six-second videos for Vine, according to The Atlantic. Their accounts became so popular that they dropped out of high school and moved from Ohio to Los Angeles. Columnist Jonah Bromwich wrote in July 2017 for the Times that the Paul brothers are a kind of "reality TV" caricature of themselves, and as a result, it's hard to know when to take them seriously. Their fan base seems to be a weird cocktail of adoring teenagers and hate-watching adults — The New York Times reported that a rap video with the Paul siblings is the fourth-most-disliked video on YouTube ("It's Everyday Bro" has more than 3.5 million dislikes at present).
Fans of Paul will be thrilled to learn that he's not actually throwing in the towel, and his haters will relish the fact that he won't be on YouTube as frequently.
"Daily vlogs," Logan Paul whispers at the end of his latest video. "It's not every day, bro."