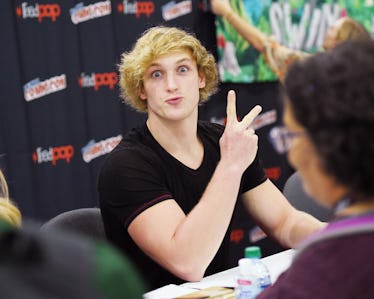 Logan Paul's Social Media Suggests That He's Single, In Case You're Interested
Nicholas Hunt/Getty Images Entertainment/Getty Images
Even if you're not a huge follower of YouTube stars, you've likely heard of Logan Paul. Paul has amassed a huge following on social media thanks to his YouTube channel, and more people learned his name when it was splashed all over headlines in the beginning of 2018 due to a controversial video in Japan's Aokigahara Forest (aka the "suicide forest"). Even with that controversy, Paul's social media following remains strong — and some of his fans are very interested in his relationship status. So, is Logan Paul single?
When it comes to Paul's relationship status, the best place to start digging is his social media accounts. And I say "digging" because there isn't much from the YouTuber himself in the way of revealing if he currently has a lady love in his life. From the looks of Paul's Instagram account, a photo with his ex-girlfriend Amanda Cerny (a fellow YouTuber) on Jan. 15, 2017 appears to be his last post about having a girlfriend. Elite Daily reached out to Logan Paul's representation for comment but has not heard back at the time of publication.
Even though Paul's early 2017 post with Cerny appears to be his last mention of a girlfriend, there was a ton of speculation in summer 2017 that Paul was in a relationship with actress Chloe Bennet after the pair filmed a a movie together. Bennet also appeared in some of Paul's vlogs while they shot the film, Valley Girl. They reportedly took a Hawaiian vacation together over Fourth of July weekend in 2017, and there were some photos that suggested the pair was getting cozy with one another. Both Paul and Bennet declined to confirm the relationship at the time, according to E! Online.
While the pair didn't officially tell fans they were in a relationship, Paul had some comments that strongly suggested the two were more than just friends. According to E! Online, Paul said in a July 2017 vlog, "I'm very transparent with you guys. Chloe and I are friends, for sure. In my opinion, friends sometimes make out. Touch butts." These "sometimes make out" and "touch butts" friends were seen together as recently as September 2017 when the rumored couple was pictured together at the Entertainment Weekly Pre-Emmy party in Los Angeles.
There were rumors that the pair split at the end of 2017 before Paul's controversial Japan videos were posted. Eagle-eyed fans noticed that Bennet unfollowed all of Paul's social media accounts on Dec. 29, 2017, according to Next Shark. Paul returned the favor, and thanks to a quick Instagram search, it appears the two still don't follow one another on the app.
If you thought that Paul's video filming an apparent victim of a suicide or his obnoxious and insensitive video about Japanese culture were the reasons why Bennet reportedly called things off, there is no clear evidence that was the case (since she clicked "unfollow" before all of the controversy went down).
Whether or not Bennet and Paul are really no longer a couple is not completely clear, but they're definitely not publicly flaunting any type of relationship. That didn't stop fans from totally reading into Bennet's cryptic tweet on March 8 that read, "Subliminal tweet to the person I miss."
It can't be known for sure if she was referring to Paul, but fans didn't wait for her confirmation before guessing she was talking about the YouTuber.
If Bennet does "miss" Paul, though, then maybe that means they have really called it quits. Paul posted a new video to his YouTube channel called "What It's Like Kissing Logan Paul!" on Wednesday, March 28, 2018, and there was not a cameo from Bennet.
I would assume that your girlfriend would be your number one authority to report on what a kiss from Paul is like, so I guess the good news if you would totally swipe right for Paul is that he appears to be unattached and available. It's probably best to keep a close eye on the Instagram follow status between Bennet and Paul just in case their social media spark is reignited.