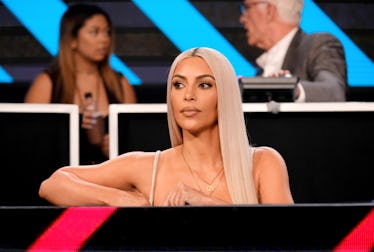 Kim Kardashian Is At March For Our Lives Showing Support With Kanye & North
Kevin Mazur/One Voice: Somos Live!/Getty Images Entertainment/Getty Images
As you'd probably assume, there is a lot going on in Washington D.C. today. In addition to thousands of brave students, teachers, and activists fighting for Congress to improve gun control laws, there are so many passionate speakers, performances, and celebrities that have dropped by to support the cause. And since you might be wondering if Kim Kardashian is at March For Our Lives, I have all the answers.
On Saturday, March 24, just before the March For Our Lives officially commenced in Washington D.C., Kim Kardashian answered the question that was literally burning inside my soul: Would she be making a March For Our Lives (MFOL) appearance? Based on her tweet from this morning, it was clear that she is, in fact, at the D.C. rally along with her husband, Kanye West, as well as their oldest child, North West. In her tweet, Kim K expressed her excitement for participating in the event, and her stance on persuading Congress to improve gun control laws. I am honestly not surprised in the slightest bit that she ultimately decided to make this meaningful appearance, but I sure am proud of her, Kanye, and North for flying in and doing so.
If you haven't yet gotten the opportunity to look at Kim K's Instagram today, her latest post is also MFOL-related... and it's definitely worth checking out. In addition to her tweet earlier, Kim posted an adorable and empowering photo of herself before the rally on Instagram. Looking extra sporty in black spandex shorts, a grey sports bra, flip flops, a pink jacket, and big sunglasses, Kim not only looks ready to make a major public appearance, but also to take on the emotional and vital march against gun violence. Her IG caption reads, "‪So ready to March today! ‪@AMarch4OurLives@EveryTown 📸 BACKGRID." Good for you for taking part, Kim — your voice is super valuable and incredibly powerful.
Kim isn't the only Kardashian to show her support for March For Our Lives and against gun violence. Kim's younger sis, Khloe Kardashian, showed her support for the cause on Twitter on Friday, March 23. In addition to attaching a poster for the event, she also created the below caption about standing in solidarity with the survivors and protesters. It's totally understandable that Khloe couldn't join her sister at the March in D.C., because she's expecting any minute now. But her support is so appreciated.
Half-sis Kendall Jenner also showed her support for the National Walkout on Twitter. It doesn't look like she ended up making it to the march, but her support for the cause was nevertheless much needed.
Kim isn't the only famous face at the march today. Miley Cyrus, Jennifer Hudson, Vic Mensa, and Common are among several famous singers that are performing, while other celebs, like George and Amal Clooney, have donated to the cause. The Clooney's donated $500,000 to the march, which talkshow host, Oprah, matched. It's great to see all of these influential faces and voices supporting the cause, because our nation seriously needs all the help it can get.
I don't know about you, but I think it's really enlightening to see that Kim, Kanye, and North are showing their support for MFOL, trekking all the way to D.C. to support the march, and are walking in solidarity. Since it's absolutely dire to get as many hands on board as possible, having some influential faces out there is definitely helpful. I'm beyond proud to see that the whole family seems overall involved and supportive of the cause — because not only is it inspiring, but it's good to know that they care, too.